Traditional cuisine of Norway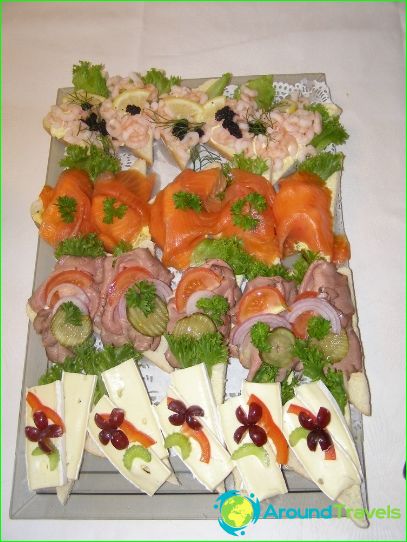 Food in Norway is quite expensive, but if yourgoal - to save, visit restaurants and buy cheap food stalls in the street (if you want coffee and sandwiches can be ordered to go to the shops at the gas station).
Food in Norway
The favorite food of Norwegians are dairy products, meat (venison, mutton, whale meat), fish (herring, mackerel, salmon, cod) and seafood.
In Norway you will have the opportunity to try the favorite product of the Norwegian - goat cheese (popular varieties: brunost, pultost, Gammel).
Must-try dishes from fish -clipfish (dried cod), lyutafisk (cooked with spices, pre-smoked cod), rakfisk (fermented trout), as well as a popular country's national dish - farcical (braised casserole of cabbage and lamb meat).
At breakfast in Norway can offer you eata variety of cuts (meat, fish, cheese), eggs, bread and coffee; lunch - cold appetizers (smoked salmon or venison meatballs and elk). And for dessert is enjoyed lukket valnott (cakes covered with whipped cream).
Where to eat in Norwegian? At your service:
restaurants with typical Norwegian dishes;
cafes and bars;
street stalls and kiosks (here you can buy pizza, french fries, chips, hot dogs, fried chicken);
fast food restaurants (McDonald's, Burger King).
Drinks in Norway
Norwegians are popular drink milk, coffee, tea, beer, grog (this drink is made from red wine with cloves, cardamom, almonds, raisins).
In Norway, it is worth trying aquavit - vodka, the alcohol for which is made from potatoes (Alcohol - 38-50 degrees). Moreover, it adds coriander, dill, anise, cumin, and other spices.
Note that purchase alcoholic beverages, strength of more than 4.75%, you will only be able to network of specialized shops Vinmonpolet (choice of shops is enormous, but the prices are very high).
Gastronomic tour in Norway
If you decide to opt forgastronomic tour in Norway, lasting a few days, you can visit the culinary master classes from the best Norwegian chefs, serves traditional Norwegian cuisine, visit the brewery and alcohol miniatures museum.
If desired, can be arranged for you seafishing, you go on a yacht. And after that you will be taken to a fishing village where you have to prepare delicious caught catch you.
In addition, you can take part in catching king crab (it can reach up to 2 meters) and from the fresh catch for you to cook the most delicious dinner on the shore of the fjord ...
On holiday in Norway, you will surely be able to try the Norwegian food, delicious taste that you will never forget.
Photos of the Norwegian national dishes