Activities in Norway in December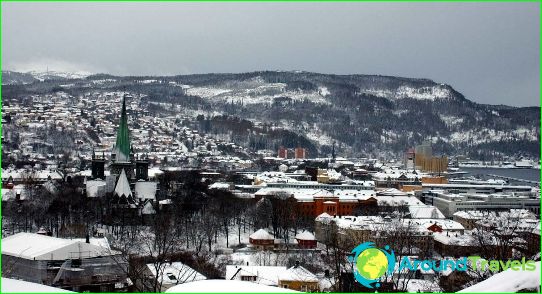 December in Norway is a realsnow fairy tale. The weather conditions of winter in Scandinavia is the best suited for skiing, snowboarding and other winter sports. The guests of the country offer services for renting a snowmobile, and fans more unusual mode of transportation can go dog sledding.
Things to do on holiday in Norway in December
in Norway are particularly fabulous atmosphere Christmas and New Year holidays. Caught here in December, it is sure to bring the following items to the list of entertainment:
1. Introduction to the way of life and traditions of the indigenous people - the Sami.
2. Visit one of the local festivals, so beloved by the locals.
3. Visit the hotel made entirely of ice.
4. Purchase of hand-made souvenirs at local fairs.
6. Walk through the city and enjoy the Christmas atmosphere.
In December of each country's guests have the opportunity toa ride not only on the dog, but on a reindeer sleigh. For a long time to think over the choice of gifts to relatives and friends do not have to. Local artisans sell their handmade souvenirs at the Christmas markets. Most of them are made of leather, wood, whale bone and other natural materials.
Adventure holidays in winter in Norway
Activities in Norway in December can be carried outunconventionally. Especially will appeal to all fans for extreme underwater fishing for king crab. Impressions from plunging into the icy water of the Barents Sea will be a lot. To do this, of course, provided a warm wetsuits. A nimble to catch crabs have their own hands, without any adaptations.
With the benefit
For those who prefer to spend their holidays incomfort and warmth, you can enjoy a stroll along the local streets, admiring the breathtaking shimmer Christmas garlands. In addition, in December in Norway - the Christmas sales. So that fans of shopping will also find something to occupy themselves in Norway in December.
To enrich the knowledge about the country and its culturaltradition can be in local museums. Every city in Norway has its own unique museum. Here you will find the Museum Ski Museum and even the Young Drummers. Guests of the country in December will be able to witness the aurora borealis. This natural phenomenon unknown beauty is really worth seeing.
Weather in Norway in December
Thermometer in the country in the winter does not rise above the level of 3 degrees Celsius. In coastal areas, the temperature can rise to +5. The days are short, precipitation
quite a bit, but it all depends on what part of the country, which is chosen to visit. For example, in the same coastal rains to 17 days a month.
Photos holiday in Norway