Activities in Norway in June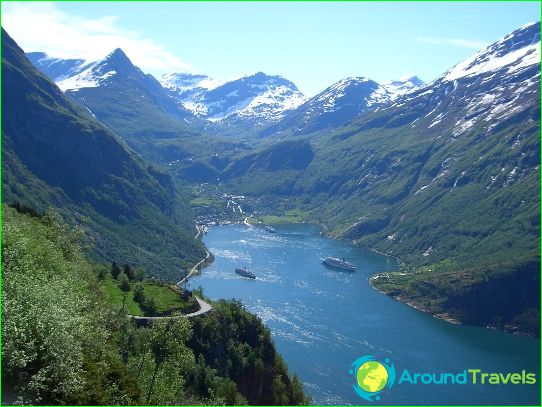 The most cozy capital of northern Europe,scenic fjords, interesting excursions and exotic Norwegian fishing - all this attracts many tourists to the country. Activities in Norway in June will provide an opportunity to forget about the hectic metropolitan life, enjoy the peace and tranquility.
Weather in Norway in June
The first month of summer tourists meets enoughwarm (by Norwegian standards) weather. But the difference in temperature between the north and south of the country is large. Therefore, depending on the choice of destinations should complete suitcase.
Forecasters say that the average daily temperature in June in Norway is +16 ° C, overnight +9 ° C, the water temperature is good only for cold-blooded creatures +10 ° C.
Night St. Hans
Norway is situated so far from theSlavic territories, nevertheless have an amazing holiday, which coincides with the familiar to many holiday of Ivan Kupala. Only in these places it is the Norwegian name of Hans, and celebrated on 23 June.
On this day in many places in Norway forknown to all the traditions of bonfires are lit, not only burn wood and old boats. In the northern areas are in no hurry to make a fire, "the midnight sun", and so covers all around.
stand apart
Many tourists believe that the Nordic countriesPeninsula always present a united front and stand mount for each other out. This is not a holiday and June 7, which is celebrated in Norway proof. On this day, more than a hundred years ago, it was dissolved union with Sweden. This is not just a holiday, it is - flag day. June 7, all decorated with the symbols of the independence of Norway - national flags.
Oslo Walk
In the northern capital, the tourist will find manyamazing and beautiful places, wonderful architectural complexes. Many people start the journey through the city with a visit to the Royal Palace, built 200 years ago. In addition to actually building the palace, there is a large park, ponds, lakes, monuments and sculptures. Just in May, the palace guided tours.
Akershus Fortress and Castle is a masterpieceNorwegian architecture and the most visited place of the guests of the city. Behind the massive walls of the fortress hiding exquisite palace complex. Noteworthy ceremonial halls, a chapel, a museum that introduces the history of the palace. By the way, the entrance to the castle is free for everyone, but for the state rooms or visiting the museum will have to part with a number of crowns.
Photos holiday in Norway