Railroads Norway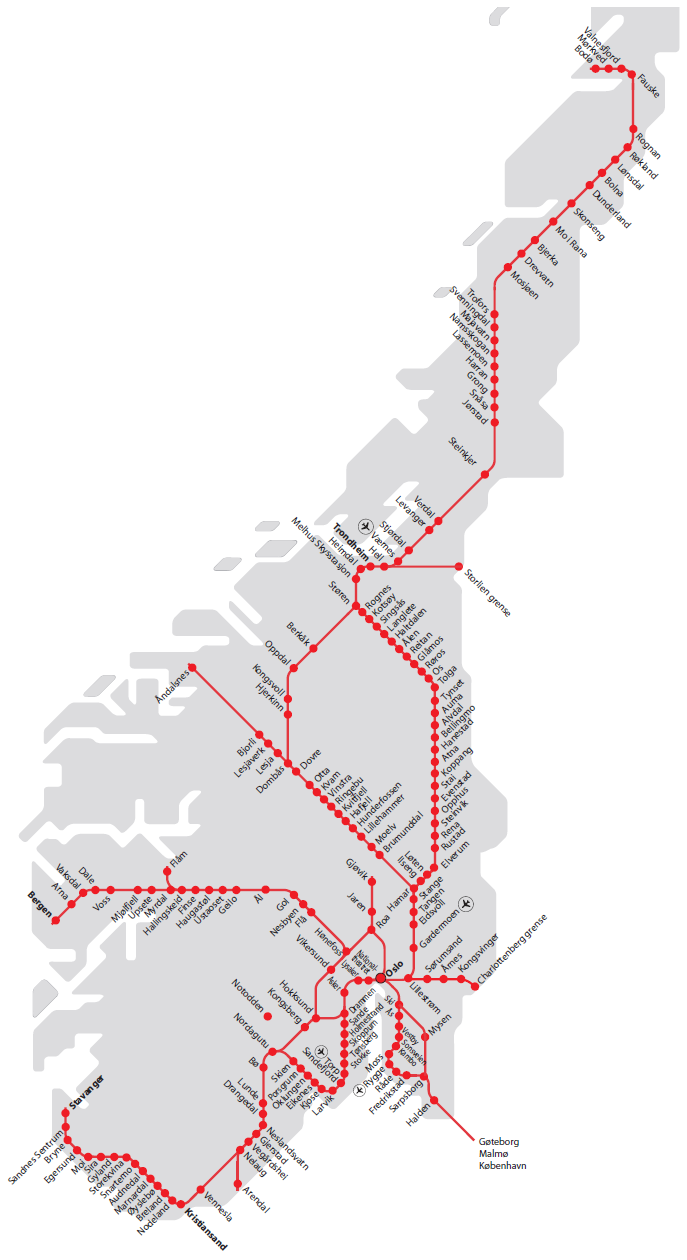 The railway network has a length of Norwayabout 4000 km. In its composition has many tunnels and bridges. Most of electrified tracks. Norwegian Railways pass through beautiful places, so while driving, passengers can enjoy the natural attractions. In Norway, there is a high-speed highway with a length of 60 km. It is used to move the trains to accelerate to 210 km / h.
The main directions of the railway
The State Enterprise «Norges Statsbaner»(NSB) provides services to the railway sector. On the company's website - www.nsb.no, you can get the latest information about routes and fares. This resource is available in English.
Norway's railway network consists of five main lines that go from Oslo:
Serlandsbanen - south direction, passing to Stavanger.
Bergensbanen - mountain line connecting Bergen to Oslo.
Central area - routes Dёvrebanen and Rёrosbanen.
Norlandsbanen - northern line between Bodø and Trondheim.
In the north, at the point to which you cantrain ride is Bodø. By train you can get to Narvik, Tromso and other cities following through Sweden. In Norway, regional shuttle trains and intercity express trains. Popular routes include the following countries:. Flåm Railway, Bergen Railway, Railway Raumabanen, Dovre, etc. can be reached by train in Norway of any European country, taking advantage of features extensive and dense network of railroads.
All Norwegian train a high levelservice. Travel in them are very nice and comfortable. Almost every train has Wi-Fi, free of charge. Places for passengers are equipped with sockets. The sleepers are provided, coupled with wide beds. Tickets are more expensive coupe - the standard rate added 850 crowns.
Types of tickets
Free ride on the train are childrenup to 4 years. Reduced tickets are available for children from 4 to 6 years. Students are given a 25% discount on the map ISIC. In Norway, the train tickets sold standard and discounts. The standard is considered to be a full ticket, which can be taken back to the day of departure. Tickets for the routes Oslo are non-refundable. Ticket at a reduced price is indicated minipris. Its minimum price is 199 CZK. The cost of such a ticket varies depending on the number of locations and the distance of travel. Minipris can be purchased online at www.nsb.no site, as well as vending machines.
Photo