Cuisine of Norway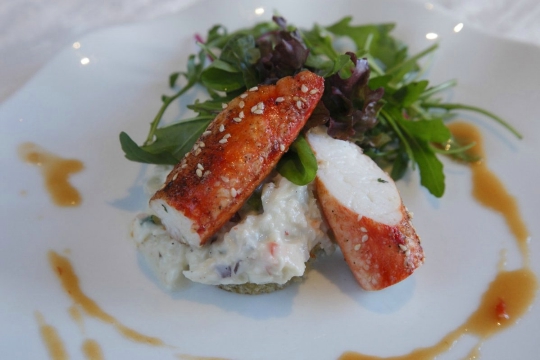 Since the country is dominated by the harsh climate and local fisheries, food Norway is represented mainly by "peasant" dishes.
Food traditions in Norway
The most common local product -Norwegian salmon, but in addition it serves in Norway and from other fish - salmon, plaice, halibut, trout. So, here are held in high esteem "klipfiks" (dried cod), "sursild" (herring marinated with onions) or "fiskemele" (cod liver, caviar).
Of the meat dishes (meat served, as a rule,berry and sweet and sour sauce) offer travelers enjoy steaks, schnitzel, roast pork ribs, meat soup with greens, and as a side dish - beans, potatoes, cabbage, cereals.
An integral part of the Norwegian cuisine - baked goods: for example, there are popular bread made of potato ( "lefse") and crisp bread, like pita ( "knekkbred").
Popular Norwegian cuisine:
"Fiskeboller" (meatballs with fish sauce);
"Hetboller" (a dish of beef meatballs with sauce);
"Fårikål" (a dish of roast lamb with braised cabbage and floury sauce);
"Smalahove" (a dish of stewed sheep's head);
"Swell" (traditional Norwegian pancakes);
"Spillingboller" (cinnamon rolls).
Where to try Norwegian cuisine?
Many restaurants offer their guests to try traditional Norwegian dishes as elk, venison, fish delicacy lutefisk at reasonable prices.
In Oslo you can eat in the "Kaffistova" (in thiscafe visitors are treated slightly dried fish, potato dumplings, meat cutlets, venison) or "Oslo Spiseforretning" (this restaurant is likely to appeal to gourmands, who will be offered to eat chicken stew, steak from saithe with onion, fish, clipfish) in Bergen - in " Finnegaardstuene "(gourmet versions of classic Norwegian dishes worth trying the fried cod with red wine sauce and mashed lentils, warm salad with beets, as well as venison fillet with juniper berry sauce).
Cooking Courses in Norway
Do you want to try traditional Norwegian food at thefood establishments, and by taking part in their preparation? Look for the gastronomic tours "Oslo Food Tours", during which you will also be offered to visit the small shops with food and desserts.
The trip to Norway could be timed to coincide withGastronomic Festival "Matstreif" (Oslo, September), Festival of king crab "Polar Spectacle" (in October-December, the festival is arranged tasting of crab meat with a savory and sweet sauces, organized safari King Crab, and begins to operate a children's cooking school) or Food festival "Gladmat" (Stavanger, July).
Photo