The population of Norway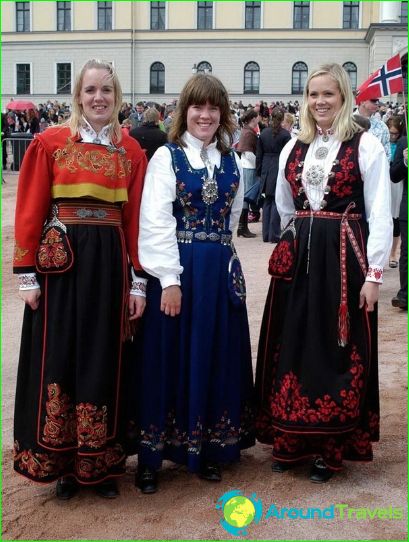 Norway has a population of more than 4.9 million people.
Traces of the first settlers were found on the north and north-west coast of Norway - they belonged to the Scandinavian nation, kindred England and Danes.
Today there is no single opinion, howpopulated Norway - from north to south, or south - north, but certainly one that in remote times Norwegians inhabited territory on the south side of the bay to Drontgeyma Vick.
National composition:
Norwegians (97%);
other nations (Sami, Danish, Finnish, Swedish).
On the 1 sq km is home to 13 people, but the most populated south-east of the country (Estlann), and are almost deserted plateau in the south.
Official language - Norwegian.
Big cities: Oslo, Bergen, Stavanger, Trondheim, Kristiansand, Baerum, Fredrikstad, Narvik.
Norwegian residents profess Lutheran, Baptist, Islam, Catholicism, Judaism.
life expectancy
On average, residents of Norway live up to 80 years (the male population is living up to 78 years, and women - 81 years).
High levels of expectancylife due to the fact that Norway is a record for the health care costs in Europe (this item of expenditure is allocated more than $ 5500 per year for 1 person). Equally important is the fact that in recent years in Norway in 2 times reduced the number of smokers. In addition, there are only 10% of the population are obese and overweight problem.
Traditions and customs of the inhabitants of Norway
Norwegians - hospitable people, but they are showing restraint and caution as long as they are not known better when dealing with strangers.
Norwegians love to celebrate Constitution Day (May 17)- The day they get out of the cabinets costumes (byunady), which cost up to several thousand dollars, and sent them to the demonstration, after which local residents organized concerts. In the evening every family organized a gala dinner.
His first byunad decided to wear to the confirmation(Confirmation) - it is a family tradition, which is the initiation into adult life (she passes the age of 15). Young people in this day give money - from that day on they begin to collect their first capital.
Residents of Norway's very polite if suddenly Norwegian-motorist accidentally splashed you with mud, it will help you to clean clothes, takes you to the home or even pay for dry cleaning services.
If you are thinking in Norway, keep in mind thatIt is forbidden to smoke in public places, campfires in the period from 15 April to 15 September and throw garbage on the streets (for violation of the prohibition provided for the imposition of a fine, and may deprive the tourist visa and the right to enter the country for a long time).
Photo