Prices in Norway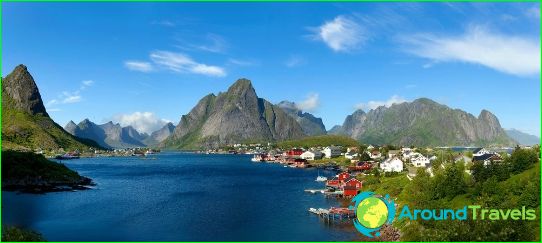 Prices in Norway are among the highest in the world. It's worth noting that prices in major cities and resorts than in provincial towns and villages.
Shopping and souvenirs
Arriving at the shopping in Norway, you canbuy not only souvenirs, but also clothes of famous designers and jewelry, walking up to the local shopping centers. For example, in Oslo you will find the largest and most famous shopping center, which houses 87 shops.
What to bring from Norway?
trolls and Viking figurines, reindeer productsskins, Norwegian knits, knives, antler local production, pewter, fishing gear, Norwegian runes for divination, women's jewelry from the Norwegian silver;
aquavit (Norwegian liquor), smoked fish, brown goat cheese.
In Norway you can buy caviar cod - 3 euros / 1 tube, Norwegian sweater - about 150 euros, wood crafts - from 3 euros, Viking Hats - 35-60 euros, the skin of the sheep - from 35 euros, aquavit - from 15 euros.
Excursions
In the survey on the Bergen city tour youstroll through the historic center, visit the house-museum of Edvard Grieg, look in the wooden church of Fantoft, climb the mountain (from here you can admire spectacular views of the city). The approximate cost of a 3-hour tour - 170 euros.
And to meet Oslo you can sitting onsightseeing bus - you will get off the bus to get a better look any favorite attraction (Ibsen Museum, Royal Palace, the Viking Ship Museum, Vigeland Sculpture Park). The approximate cost of the tour - from 10 euros.
Entertainment
Couples can go to the amusement parkHunderfossen (it is 13 km from Lillehammer, Norway). Here you are waiting pools, 50 rides, an ice cliff, opportunities to practice snow rafting and ice bowling alley, movie theater, where you can view 4D-films. Entertainment Price - 23 euros (children's tickets are dependent on growth: children up to 90 cm - free, 90-120 cm - 6 euros, 120-140 cm - 18 Euro).
Transport
To move to Norway you will be able to on the subway,bus, tram or train. For example, from the airport to the center of Oslo can be reached in 20 minutes, sitting on a high-speed train Flytoget - the fare you pay about 19 euros.
The most common mode of transport in the countrya bus: 1 trip costs about 3 euros, so it is advisable to purchase travel (travel, operating hours, can be purchased for 9 Euros, and for a week - 26 euros).
If you decide to rent a car to get around the Norwegian city, the rent for a week you have to pay 360-720 euros.
Most minimum daily spending on holiday inNorway amount to 40-50 euro per 1 person (self-cooking, camping accommodation, saving on transportation costs). But the best option - to plan your holiday budget at the rate of 120 euros per day for 1 person.
Photo