Rent a Car in Norway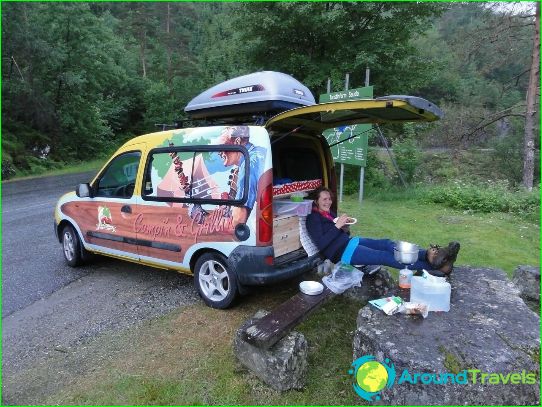 To rent a car in Norway, yourequire an international driving license, bank card and, of course, paid by insurance. By the age of the driver is not much chicanery - it must be at least 19 years. But the experience of driving at the same time should not be less than a year. True to the driver 19 to 24 years in some cases, additional charges for age. For some categories of engines have an age limit - 25 years.
Rent a Car in Norway, as a rule, it includes:
Unlimited Mileage;
Insurance against theft;
Insurance against damage.
Additionally, you can pay superstrahovku,ski rack, child seat, navigation. But as a deposit on your card may be blocked astounding amount - up to 1,000 euro! Of course, the money will return to you after you give back the car.
Features a trip to Norway
But that's not all the surprises preparednorthern country. Take a ride on the scenic routes here will only in the summer. In winter, skate on the country uncomfortable due to the fact that deep in the Arctic Circle. In addition, some of the mountain roads are closed. Do not run many hotels and campsites, there is cold and windy. However, this does not mean that winter in Norway do not need to travel, but to indulge in rational autotravel summer.
The route for this voyage to develop betterannular. After all, rent a car in one city and then deliver it in another will come much more expensive, and if you leave the car in the neighboring country, the rates did not delight. Allowances within the country will amount to 400 euros, and say, if you give the cars in Finland - already 700 euros.
But it is a fantastic country, praised by the Vikings,which kept the trolls from the evil spirits, and then travelers will recall wonderful childhood. There are so many pristine bays, cliffs, fjords, who "inherited" the ice age left.
Necessarily it is necessary to call in is considered the mostbeautiful city Aalesund in Norway. This city is located on the islands. It always attracts tourists with its beautiful bridges and tunnels, cozy, although small houses, which are reflected in the calm surface of the sea, and extremely comfortable climate. Besides Alesund is good because of its natural beauty, and it is from this city start many excursions to the fjords. It's a kind of natural attraction, although it is so harmoniously complemented, and carefully guarded man. As here, in this wonderful land, not to believe in gnomes, trolls, goblins and other fantasy creatures that we know more on children's books.
Photo