Resorts of Norway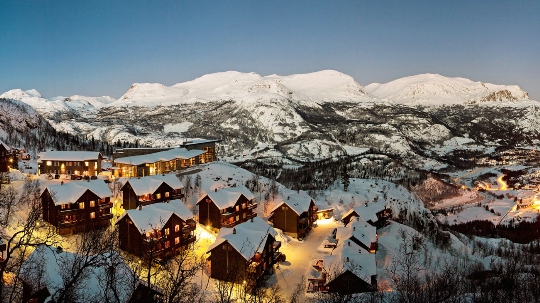 From the point of view of the beach-resort pleasurescountry trolls, Vikings, bottomless fjords and magnificent aurora borealis is not too suitable for the holiday. However, the true connoisseurs of cold beauty, who know a lot about the pleasures of winter, confidently state that resorts in Norway is. Only they called ski and fly to those who prefer a healthy adrenaline in the blood of even the most chic beach relaxation. These people choose harsh view of the snow-capped mountain peaks, dense not enticed by the blue sea in the July afternoon.
"For" or "Against"?
Weighing the arguments in favor of relaxing resortNorway should take into account the relatively short flight and the high quality of the local ski slopes. The climate in the country - ideal for organizing winter sports and a long-standing national traditions Norwegians have allowed them to master the technique of preparation of the slopes.
Skeptics may argue that Norway - the countrynot too cheap, and alcoholic beverages and is not affordable for the average traveler. Rest, of course, may require and libations, but the bulk of active tourists traveling to the country of fjords, pursues a different purpose.
Olympic trails
Norway Lillehammer Winter resort known to allfans of skiing at least because on its base Olympic Games were held. Lillehammer region includes five skiing areas available for guests with a single ski pass. The season here starts in November, with the advent of stable snow cover until mid-spring, guests enjoy superb skiing and other resort pleasures.
Special praise deserves infrastructureLillehammer. Hotels there are open very different advantages, but clean and pleasant service guests are guaranteed regardless of the room price. The most desperate are given the opportunity to spend the night in the ice room on a bed, covered with sheepskin.
Off-piste life at this resort in Norwayrich and diverse. Dog sledding allows you to feel like pioneers of the North Pole, and snowshoeing give a sense of spaciousness. Incidentally, in the summer on the territory of Lillehammer you can play golf and horseback riding.
Always on top
No less popular ski resorts in Norway are scattered throughout the country:
Narvik is conveniently located above the Arctic Circle.
Hemsedal is famous for a variety of terrain slopes and great views of the surrounding area.
Geilo is especially popular among families with children and fans of cross-country skiing.
Photo