Shopping in Norway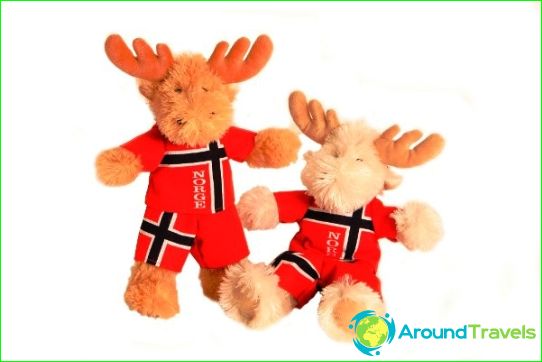 Traveling to the Norwegian fjords and enjoybeautiful nature, visiting the city, you will come and shops. Norway - a country with a high level of income and the shopping is expensive by definition. But tourists still buy something as a souvenir.
Clothing, jewelry, souvenirs
The best gifts are considered to be knitted from Norwaythings - sweaters, gloves, socks, long scarves volume. They are sold in souvenir shops of Dale of Norway and Oslo Sweater shop, the cost - about $ 200, if the sweater is cheaper - then he is not Norwegian, and Chinese. You can buy a real Norwegian wool skeins in the store "Nille" and knit a sweater by yourself. Bring slippers, mittens made of the skins of seals, moose and seals - quite exotic, very warm and durable.
In Norway, a good, but expensive, sportswindproof and waterproof clothing, the highest price for brand Vergans, cheaper, but still good - Stormberg. In any city you will find sports shops where you can pick up what you need. The departments of sports equipment you can buy excellent expensive rods.
Many believe that Norway should buy watches and jewelry. Girls are like ornaments of silver made according to old drawings of the Viking era.
For children you can buy soft toys - elk in sweaters, horned helmets and swords, dolls in national costume.
Alcoholic drinks and delicacies
If you need a Norwegian alcohol, it is possibleto buy heavy beer, liquor cloudberry, low-alcoholic apple cider or aquavit - vodka from potato alcohol, infused with dill, cumin, coriander, anise. Alcohol is only sold at Vinmonopolet stores or duty free.
Buy necessarily brown cheese "brunost" froma mixture of goat, cow's milk and whey, the taste of it - like a savory caramelized condensed milk. There are special types of cheese Gamalost Pultost, they need to try before you buy, do not take them for bright packaging with the seals, medals - they are very peculiar. Sold all the cheeses in supermarkets. Here you can buy a knife for cutting cheese - blade with a longitudinal slot, a Norwegian invention, or forged knives from a Norwegian steel with a handle made of deer antlers.
Also in supermarkets buy deli meats, unusual for us - venison, elk, and be sure to take the salmon - it is even customary vacuum packaging is different from what the house sells.
When shopping, keep receipts in excess of CZK 300, and is made tax-free at the airport.
Photos of Norwegian goods, shops and markets