Muscat - capital of Oman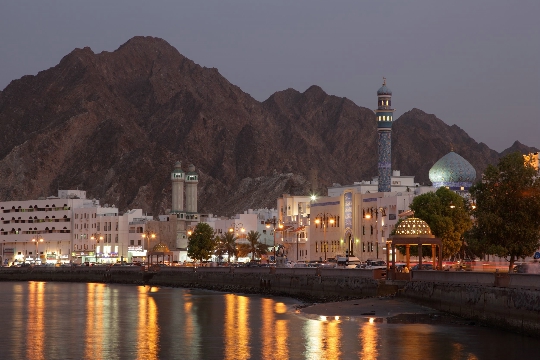 Muscat, capital of Oman, located on the shoreGulf of Oman. On the other hand the city is very tightly abut the steep cliffs that began to settle reliable natural fortress, protecting against external enemies.
Interesting fact that virtually none in Omannatural water sources: if you look at a map of the country, it is impossible to find a river or lake. In this state capital surprising abundance of greenery and flowering plants by the use of irrigation systems.
The areas of the capital and its attractions
Muscat is divided into four districts, each of them has its own place of interest for tourists:
Muscat's center, with a magnificent palace of the Sultan;
Matrah - shopping center of the capital of Oman;
Ruwi, attended by businessmen from around the world;
Al Qurum - district of diplomatic missions and hotels.
Matrah, where one of the most interestingArabian market, will help guests Omani capital to buy souvenirs and gifts for family and friends. ICTR market will surprise its color even seasoned traveler: narrow streets, dead-ends and corners.
Everywhere there is a trade, presented a variety ofgoods. Prices, of course, exaggerated, but negotiable, unlike the official store, which features relatively high, fixed prices. But the stores can not run into a fake, that sin the local street vendors.
Main Activities
Firstly, in Muscat, you can see the famousforts of Mirani and Jalali, built to protect the city in the XVI century. Second, no less interesting will be familiar with religious places of worship for Muslims. One of them - Sultan Qaboos Grand Mosque - one of the three largest mosques in the world. And inside are allowed access to foreigners (except for the sacred days of Muslims, Thursday and Friday).
It is clear that women can get acquainted witharchitecture Muslim shrines, but their internal decor and decorations. But tourists will enjoy excursions to the local factory - one of them produce delicious halva, the second is famous for its perfume.
With a history of Muscat and Oman can be found inmuseum institutions such as the National Museum, which holds an impressive collection of silverware, or Bayt al-Zubayr - historical museum. Among the entertainment capital of Oman - a walk on the gorgeous parks, where it grows a huge amount of roses, and climb to the observation deck, which offers magnificent views of the city.
Photo