Flag of Oman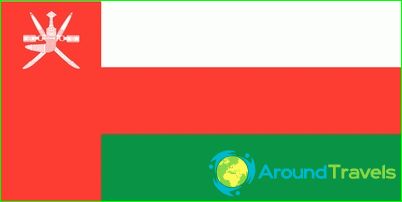 Flag of the Sultanate of Oman was adopted in December 1970, along with the national anthem.
Description and proportions of the flag of Oman
Flag of Oman is a classicflag rectangular shape which is longer than the width of exactly twice. Along the shaft across the width of the flag of Oman passes red stripe, which is located at the top of the emblem of Oman.
The rest of the flag field is evenly divided into threehorizontal strips of equal width, which is smaller than the width of the strip along the red vertical shaft. The upper band of the main fields of Oman flag is white. It symbolizes the desire for peace and progress. The middle part of the main field Omani flag red and merges with the vertical stripe near the staff. This shade cloth reminiscent of the struggle against foreign invaders ever to invade the land of the Sultanate. The lower third of the main field is green and emphasizes the important role of Islam - the religion professed by the overwhelming majority of residents of the Sultanate. In addition, the green stripe underlines the importance of agriculture in the national economy.
The emblem on the flag of Oman known since the XVIII century. It was then crossed swords for the first time became a symbol of the Sultanate. Swords depicted on the emblem, located down the blades. They are richly decorated scabbard and decorated with traditional Omani Khanjar composition applied over swords. This dagger is decorated clothing Arab sultanate and is a fixture of the national costume and the traditional instrument of protection for every man Sultanate. Over Khanjar on the emblem on the flag of Oman superimposed belts, followed by a belt of Arab men and worn dagger.
Oman emblem decorates and personal standard of the Sultan. His panel is a red field with a rectangular frame green situated near the edges of the flag. The standard of the center - the golden emblem of Oman, which is inscribed atop the royal crown.
History of Oman flag
Oman flag was adopted in 1970 aftercoup, which has been arranged when the son of the current Sheikh Said bin Taimur,. New Sheikh Qaboos immediately after the takeover initiated a series of reforms related to the country's economy. Changes were made and the state symbols, in particular, the new flag was adopted in Oman, serving until today. The cloth is used for all purposes on land use in the state courts of ships and private owners, as well as a commercial flag flag.
Photo Oman flag