Oman Resorts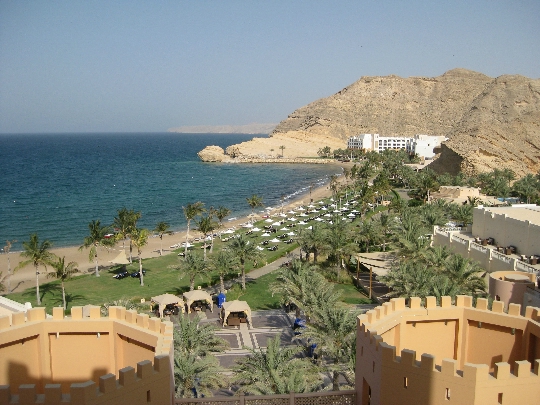 Like many neighboring countries, Oman has longstrengthen its economy through oil exports. However, its reserves in the Sultanate were not limitless, and therefore strong Omani world decided to develop the tourist industry. This turn was at hand, and Russian tourists, mastering new horizons on the world map. Today Oman resorts still can not boast a large number of hotels and a variety of entertainment, the neighboring United Arab Emirates and Egypt, but the locals under the leadership of Sultan are actively working on resolving this issue.
"For" or "Against"?
It would be easy - buy a tour in the usualbeach direction and not to tempt fate, going into new uncharted lands. But the real traveler is distinguished from an ordinary tourist, that there are no obstacles that would not like to overcome it:
From Moscow to Muscat no direct flight? Not a problem, because in the Omani capital can also be reached with a connection in Dubai and at the same time beneficial to run through tamoshnem duty free - a huge and diverse as the whole city.
To arrive in Oman resorts, Russian citizen need a visa? And it's not a question, leave to enter can be obtained in the country's embassy in Moscow, and in the transit area of ​​Muscat Airport.
The public areas in the Sultanate is requiredobserve a dress code of dress? But the safety of tourists in the country is at a level such that it is possible to walk alone at night in the city, it is not putting your property at risk.
Capital tricks
The international airport is located in the capital andthe main resort town of Muscat in Oman. It is called an oasis in the desert, so the city is beautiful and green, even in the midst of a hot summer. Resting in Muscat, tourists choose one of the city's sandy beaches, each of which is equipped with free parasols and sun loungers.
Diversify beach holiday in the capital of Oman is easyand just interesting excursions. For example, visit the old town with the palace of the Sultan, or bargain bazaar plenty to ICTR, which is considered the most picturesque in the whole Arabian Peninsula.
In the land of the Queen of Sheba
You can arrange chic beach holiday andresort located in the southern part of the country. Once in Salalah stood the palace of Queen of Sheba, but today a trip to the place of the once lush chambers are happy to arrange numerous tourist bureau.
The beaches on the Indian Ocean is sandy,and the water is distinguished by a special transparency. The swimming season lasts all year round, but during the calendar summer monsoons bring to this resort in Oman constant drizzle.
Photo