Airports Palau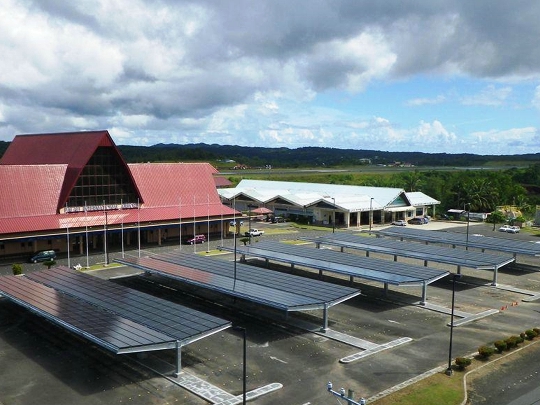 It is an island nation in the Pacific OceanIt refers to Micronesia. Far flights and a lot of ticket prices do not stop the fans and the magnificent diving in Palau airport meet periodically nationals wishing to immerse themselves in the pristine waters of the Philippine Sea.
The way from Moscow to the capital of Palau Ngerulmund simpleIt does not seem. No direct flights No schedules in one airport, but to get to the docks have a minimum of 19 hours depending on the route and direct. The fastest way to fly via Manila, Hong Kong, Taipei and Seoul.
Palau International Airport
In the only international airport of Palauthere are a few names. Firstly, it is named after a local politician Roman Tmetuchl. Also called air harbor and airport, Airai and Koror-Babelthuap. The fact that Babelthuap - it is an island, and the city where the airport is located, is called Koror. He and a passenger terminal shared by only 4 km. But Airai - it is the largest settlement on the island, but because his name is also present in the "passport" air gates of the country.
Services and destinations
Very small size limit airportits ability to receive heavy aircraft and their location on the airfield. Today departures from the capital's airport restricted areas of the Palau is very modest list:
Asiana Airlines and Korean Air transported everyone in Seoul, South Korea.
Belau Air commit domestic flights.
China Airlines offers its wings as a transport in Taipei.
Delta Air Lines flies to Tokyo. There, but Japan Airlines bead sent on a seasonal basis.
United Airlines have in their schedule flights to Manila and Guam.
Mega Maldives season kicks off in Macao, from there to go to the Maldives.
Palau Pacific Airways at certain times of the year takes passengers to Hong Kong.
Transfer to the city of Airai and Koror available at the taxi, but the most convenient way to reach the hotel is booked out transfer.
While waiting for departure at the airport in Palau available modest duty-free shops and cafes overlooking the "Vzletka".
Spare airfields
The island nation of Palau as a majorTransport prefers aviation. In addition to the capital's international air port in the country runs a couple of quite decent airports of the island Babelthuap regular services:
The runway on the island Anguar existed since the 40s of the last century. Today, there are landing planes with tourists from Koror and Peleliu.
In the Peleliu airfield slightly larger, but still he was able to receive only light aircraft. Also Anguara fly away in the capital harbor in Koror.
Photo