Ngerulmud - the capital of Palau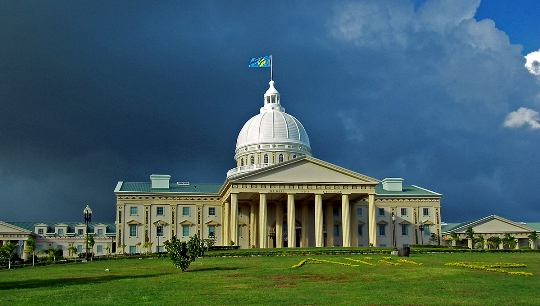 A unique case - the capital of Palau, a tinyisland nation located in the Pacific (Philippine Sea), consists of one building. It - Ngerulmud. The second feature is that the name is very difficult for the pronunciation, and to remember.
Shift leader
The locals were very surprised, because the firstthe capital of this island nation was the city of Koror, which met all the requirements of the city with this status. He was one of the largest in the country, had a great location - on the coast, with good infrastructure and beautiful landscapes.
In 2006, the government adopted a veryambiguous over the period of its activity the decision - to move the capital to Ngerulmud. The problem arose from the fact that, according to the decision of the National Congress, the main city of the country was supposed to be on the largest island. The choice fell on Ngerulmud, which was created from scratch. Experts Hawaiian architectural firm who designed the Capitol project for the capital of Micronesia, were to participate in the development of a new Palau capital plan.
Works very slowly stretched until it appeared"Main sponsor" in the name of Taiwan, which has given money in exchange for recognition of its independence from China. As a result, the most interesting in terms of planning the building grew in the new capital. It has room for legislative, executive and judicial organs, they are located in three wings, connected by open space.
The main attraction, and other points of interest
The main attraction of the capital of Palau, shethe only - the building of the local government, it can be seen in the photo of all the tourists that get the same in this remote region of the world. The building looks very solid and impressive at the same time for its construction did not use natural materials - marble, stone, granite, and only fashioned fiberglass.
Other cultural and historical and naturalinterest in the capital of the country is not, look for them to be in the vicinity of Ngerulmud. True, there are not so many. Probably the most attractive for tourists are: Lake Ngardok and its main inhabitants - crocodiles; Melekeok village with traditional, so-called men's house. The lake is interesting in that it tops the list of the largest freshwater bodies of Micronesia, an area of ​​about five square kilometers. Men's home set up in these areas in order to be able to hide a kidnapped girl, before it becomes a legal wife.
Photo