Flag of Palau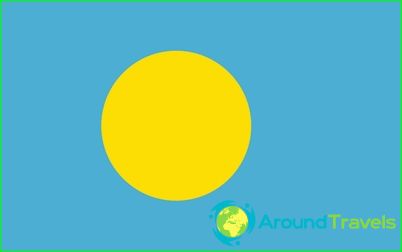 State of the Republic of Palau flag was adoptedin January 1981, and its design is based on the Japanese national flag. That Japan for a long time had a mandate from the League of Nations in the management of the islands territory.
Description and proportions of the flag of Palau
Flag of Palau is a typicalthe vast majority of countries in the world rectangle. The panel is painted in light blue color, which symbolizes the Pacific Ocean. In the center is a round disk flag yellow, equally distant from the upper and lower edges of the cloth, but the product closer to the shaft than to the free edge. Disc symbolically depicts a moon in the sky. For islanders cycles and changing phases of the moon plays a big role. Full Moon is a signal for the beginning of certain agricultural activities and determines the best time for other classes of inhabitants of Palau.
Palau flag length to width refers toratio of 5: 3. It can be used by government agencies and authorities on land, as well as a civil flag. On the water can raise the flag of Palau citizens on private vessels and merchant marine ships and government ships.
The history of the flag of Palau
At the end of the Second World War, the archipelago of PalauHe was freed from Japanese rule and moved a part of Micronesia under the jurisdiction of the United States of America. In 1947, the flag of Palau was bright blue rectangular cloth, on which was depicted the United Nations logo. Until August 1965 the United Nations flag served as the official state symbol of the island nation.
The next flag Palau became dark bluerectangle in the center of which were placed in a circle of six five-pointed white star. He called the flag Trust Territory of the Pacific Islands, and lasted until 1981, when the people of Palau have adopted a new symbol of an independent and sovereign republic.
1981 and reflected in the State PrintingPalau, which is a circle, the edges of which is inscribed the name of the state, and in the center is depicted a stylized traditional Aboriginal housing. In 1981 knocked out the bottom of the printing year. Print is similar in appearance to the previous one, which was put in all the official documents of the Trust Territory of the Pacific Islands.
Photo Palau flag