Airports in Panama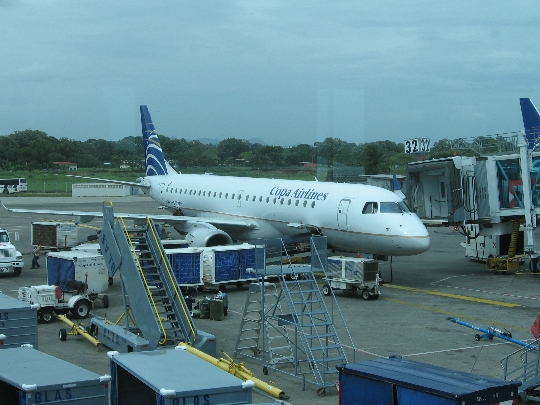 Among the four dozen airports in Panama great interest to tourists are the capital and those air gates that are located near the popular resorts.
Direct flights from Moscow to Panama not, but withlayovers in Paris, Frankfurt, Madrid and Amsterdam, there are easily accessible on the wings of airlines in Europe. Fly through the US require a visa. All the way, depending on the route and the direct take at least 16 hours.
The international airports in Panama
The list of air harbors of Panama, with the right to take the flights from abroad, in addition to the capital appear:
"Albrook Marcos A. . Gelabert "1.5 km from the center of the capital In spite of the international status, has in the schedule only domestic flights of the national carrier Air Panama plans for 2016 -. Flights to Colombia.
"Isla Colón" in Bocas del Toro served by the famous Panamanian resort in the Caribbean. These aircraft fly from the capital, San Jose Airport in Costa Rica.
The city where the airport is located, "CaptainManuel Niño ", called Changuinola. It is located at the northern border of the country on the Atlantic coast. Air Harbor receives flights from the capital and Bocas del Toro.
Airport "Enrique Malek" in David offers access to the Pacific coast of Panama City and San Jose in Costa Rica.
In the "Pacifico", 10 km south-west of the Balboa landing planes from Colombia. The airport is located in the Canal Zone.
metropolitan area
The main countries "Tocumen" air gates inPanama City are regional status for the Caribbean and the countries of the Americas. In 2016, in the Panama airport will begin to make regular Emirates flights from Dubai. This is the longest route in the world thro.
Panama airport was built during the SecondWorld War II and since then it has undergone many renovations, which continues today. The new terminal boasts 34 gates for receiving aircraft and 10 moving walkways for the movement of passengers.
Airlines and destinations
At the international airport of Panama accredited local Copa Airlines, which has in its schedule for flights to dozens of countries in the Western Hemisphere.
With US Panama connect American Airlines andUnited Airlines, on flights to Dallas, Miami, Houston and Denver. Air Canada flies to Toronto, Air France - Paris and Condor - at Frankfurt airport. Many Central American and South American carriers connect Panama City with the countries of the region.
Transfer and Services
28 km between the airport and the capital of Panama and its bestall overcome by taxi. The price will not exceed $ 30 (in August 2015). Buses are, but public transport stop is located far enough away from the exit of the terminal. The fare is made special cards, which are sold only in the city. This type of transfer will be convenient for those who commute to the airport.
Details on the website - www.tocumenpanama.aero.
Photo