Peru Beaches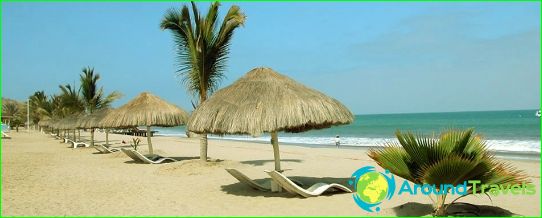 To say that in Peru a lot of greatbeaches, is not entirely correct. The coastline is really very extended and is about 1,800 miles, but good beaches are located mainly in the north, not far from Lima. The hottest months in the country - in January-March. The best sandy beaches of Peru are located near cities such as Lima, Piura, Trujillo, and Tumbes. Beach Resorts is developing rapidly in recent years, and therefore, if you choose to vacation this country, you will be satisfied.
Punta Sal
Not far from the Ecuador border is the beachPunta Sal. Feedback from tourists, this beach is one of the best in the country. These often come surfers, by the way, this sport is one of the most popular in Peru. Nature lovers and adventure can enjoy scuba diving here, watch the rich marine life. There are also of your choice can provide gear for deep sea fishing or windsurfing. If you stay in one of the hotels in Tumbes, up to this beach will have to go by car somewhere within an hour. Many tourists prefer to stay in Punta Sal, because here you can hire horses to ride on horseback to the beach; You can also go on a tour in the mangroves.
Mancora
In half an hour from Punta Sal is a beautifulMancora beach. It is like those who "hunts" for big waves, enjoying the surf. Especially high waves here are just in the hottest months of the year (January-March). The sand is almost white, it is very soft. By itself, Mancora - it is a small town, where they live mainly fishermen, but in recent years it is especially busy during the warmer months. There are many cozy restaurants and bars, comfortable hotels. The best part for tourists is that the prices here are quite as saying, affordable, that attracts a lot of tourists.
The most beautiful beaches of Peru are located to the south ofMancora. And they are very popular among young people, as at night there is a very active life, there are many places where you can spend your time on the incendiary Latin American discotheques, which can not leave anyone indifferent.
Many tourists from overseas are attracted to the beaches of Peru and what's hot in here, you can enjoy the sun, swim, when in Europe in the middle of winter.
Photos beaches of Peru