Traditional cuisine of Peru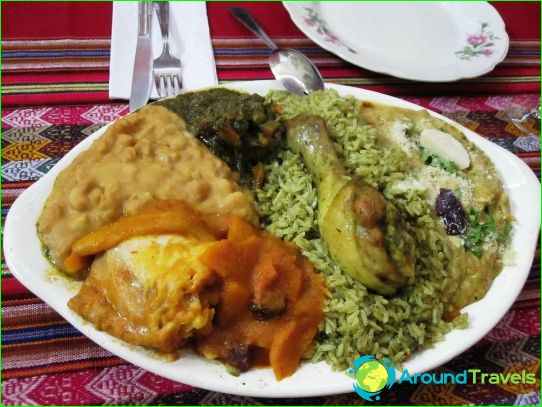 Many dishes of national cuisine of Peru is enoughsharp (pepper and garlic are in Peruvian dishes in abundance). Despite this, special attention should be paid to the popular fish specialties in the country - raw fish marinated in lemon juice (ceviche).
Food in Peru
Peruvians Diet consists of meat (chicken,pork, lamb, beef, llama and guinea pigs), potatoes (Peru grows more than 2000 species of this vegetable), corn, seafood, beans and rice, and every meal is accompanied by local residents and the use of corn tortillas. On the coast and the plains are widespread dishes of beef, pork and poultry, and in mountainous areas - dishes from pork and lamb meat alpacas and llamas.
Do you want to enjoy traditional Peruvian cuisine? Order in local institutions potato patties stuffed with avocado, crab meat or chicken (causa rellena); soup, cooked in milk with potatoes and eggs (chupe de camarones); spicy soup with vermicelli and beef (sopa criolla); jelly, prepared on the basis of sweet potato, corn, cinnamon, dried fruits, cloves and lemon (mazamorra morada).
Locals sensitive to issuescooking, so even a cuisine museum was opened in Lima. This may come anyone to eat, right to choose something one of the huge assortment of dishes will not be easy. Those who love spicy food, can then try the pork, roasted on coals with hot sauce; willing to try something special, can opt for meat or guinea pigs, llamas, and vegetarians - the vegetable stews and dishes of spinach, beans and lentils.
Where to eat in Peru? At your service:
cafes and small eateries;
restaurants of international fast food chains (they can be found in large cities);
seaside restaurants (here you can enjoy a variety of dishes from fish and seafood);
cafes and restaurants where you can order dishes of Peruvian, European and other cuisines.
Drinks in Peru
Popular Peruvian drinks - fruit juices,tea, infused with coca leaves, tea, "mate", coffee, emoliente (hot drink, infused with herbs), Inca Kola (bright yellow drink - the equivalent of the Coca-Cola), pisco (local brandy), a variety of drinks on the basis of pisco ( pisco with vermouth, pisco syrup, pisco with ginger ale), corn beer, grape brandy, wine.
Gastronomic tour in Peru
The gastronomic tour to Lima, you will visit thethe popular market town - Surquillo, where they sell a lot of fish, fruits and vegetables. The chef, who will accompany you on this tour, tell you about the Peruvian products and their importance in the national cuisine. In one of the most popular restaurants in Lima chef will teach you to cook popular Peruvian dishes, and the barman - the national drink "Pisco Sour", which later you can try.
Anyone passionate traveler would have to go to Peru, not only to see the mythical lost city of the Incas - Machu Picchu, but also taste the most delicious Peruvian dishes.
Photos national Peruvian dishes