Kitchen Peru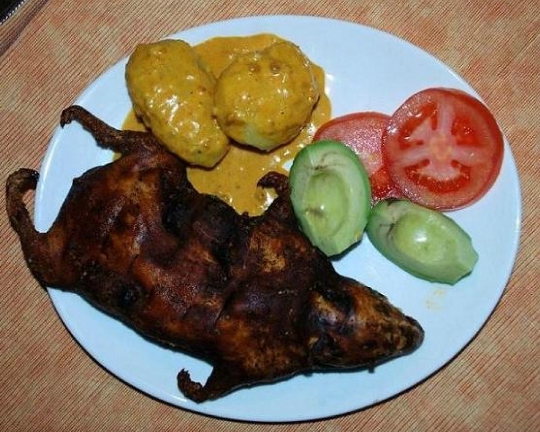 Kitchen Peru absorbed Chinese, Spanish,Japanese and African culinary traditions. This unique cuisine, in which there are national dishes, the recipes of which - a reflection of Indian culinary experience.
National cuisine of Peru
There is widespread dishcalled "saltado" - a vegetable stew, fried with various spices. In Peru, a lot of dishes prepared on the basis of the potato. So, here you can try the "Papas a la-uankaina" (a part of this dish include green salad, chips, cheese, lemon juice and hot sauce) and "karapulkra" (a dish of pork, chicken, dried potatoes and sunflower seeds ). As for the meat, then they are often prepared from meat of alpaca, which supplied the local cereal quinoa.
"Star dish" in Cuzco and Arequipa is considered Kui(Roasted guinea pig). And on the coast and the Amazon spread fish and seafood: this includes "escabeche" (appetizer of fish, peppers and onions) and "soup de samarones" (soup, to which you add the eggs, pepper, milk and shrimp ).
Popular Peruvian cuisine:
soup "Creole" (soup with vegetables, beef, noodles, egg, milk and local spices);
"Antikuchos" (skewers of beef with peppers, mushrooms and onions);
"Chincheros" (a dish of pork with peanut sauce);
"Poucher" (a dish of meat, cooked in a pot with pickled vegetables);
"Levant Muerto" (a dish of hot soup with seafood);
"Pikarones" (dessert in the form of a donut, sprinkled with sugar syrup).
Where to try the national cuisine?
Planning to order ceviche Peruvian cuisine in the restaurant and do not want at the same time feel the fire in your mouth? Ask the waiter to present you a medium spicy dish (say: "medio").
In Lima, worth a visit "Brujas de Cachiche"(Guests are served Peruvian Creole dishes - tamales from crushed corn, grilled beef heart antikuchos, stuffed peppers roar) or "Maido" (the Japanese-Peruvian restaurant offers a taste of sushi and rolls in the Peruvian style, ceviche and tiradito - Japanese ), and in Cuzco - "Inka Grill" (visitors here prefer to savor Peruvian snacks, as well as the specialty of the house - Kui, and in the evenings there is live music).
If you are a chocolate lover, you will be offered a tripCusco in the Chocolate Museum, where a local café, you can enjoy tea and chocolate from bean shells, as well as other drinks and dishes made of chocolate.
Cooking Courses in Peru
In the different restaurants of Lima wanting to learn to prepare ceviche, lomosaltado and other Peruvian dishes.
Visit Peru stands in cocktail Day "Pisco Sour" (July), Festival of Shrimp (November) and Culinary Festival "Mistura" (Lima, September).
Photo