The population of Peru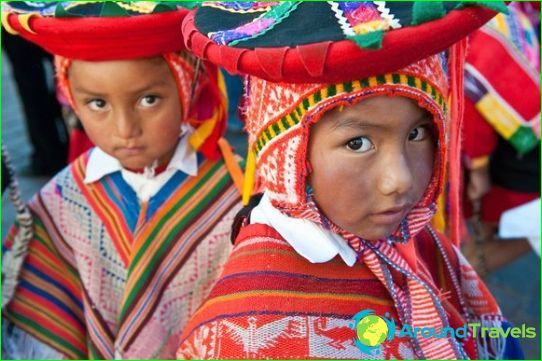 The population of Peru is more than 30 million people.
National composition:
Indians (Quechua, Aymara, Jivaro, Tupi);
mestizos;
Creoles, the Americans, the Europeans;
other nations (Japanese, Chinese, Africans).
On the 1 sq km is home to 23 people, but the most populated areas of Costa (Pacific Coast) and Sierra (mountain valley), and the area is sparsely populated Selva Amazon.
The Indians live mostly in the Sierra and in the easternpart of the country, and in the zone of the bone - Hispanic mestizo. The capital and the coast is inhabited by Europeans (people from Spain, Italy, Germany, France). In the capital the same Asians live with the Chinese and Japanese origin.
The official languages ​​are Spanish and Quechua (in big cities and good hotels speak English).
Big cities: Lima, Arequipa, Callao, Chiclayo, Trujillo, Cusco, Cajamarca, Pucallpa, Chimbote, Sullana.
Most people in Peru (90%) profess Catholicism, others - Protestantism.
life expectancy
On average, the female population of Peru live to 73 and men - up to 68 years.
Despite the relatively high rates of secondarylife expectancy in rural areas, many people are deprived of quality drinking water, adequate sanitation facilities, electricity and medical care.
The traditions and customs of the inhabitants of Peru
Peruvians - are welcoming and friendly people. They love to celebrate religious holidays. Thus, Easter and Good Friday in Peru is accompanied by massive parades and ceremonies and church services, and cultural events. The All Saints' Day is taken to arrange the celebrations with a visit to the graves of ancestors.
With great trepidation Peruvians are festivals: the most favorite are the Festival of Dance "Mariner" (celebrated in January in La Libertad), Wine Festival La Vindimina (celebrated in March in Ica), bullfighting festival (celebrated in November in Lima).
Of interest is the custom associated withwedding cake when it is baked, spread between the layers of beautiful ribbon, and by the end of one of them is tied ring. Before serving, cut the cake, and unmarried girls in turn pulled out of the cake ribbons. The one that will get a ribbon with a ring, according to tradition, must marry within a year.
In memory of Peru should buy silver jewelry, fur, knitwear, wool, pottery, masks, wool carpets llamas, woodwork, decorated with artistic carvings.
If you are thinking in Peru, drink only bottled water and do not buy food on the street and in cheap establishments. And if you are planning a trip in the jungle, make vaccination against yellow fever.
Photo