Tours to Machu Picchu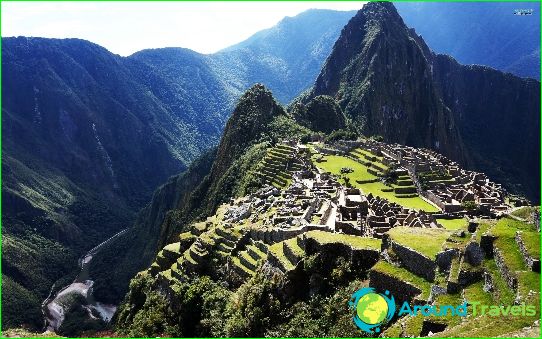 In Machu Picchu, all shrouded in mystery: no one really knows no time building the city of the Incas, nor the purpose of its construction in such an awkward spot, nor the reasons for which it suddenly empty, not even his real name. Try to find answers to these questions, or at least make a few selfie on the background of amazing stone structures, and long-eared llamas are good-natured persons in Machu Picchu, for which you first have to buy a ticket to South America.
The mystery of the great Inca
Presumably the creator of Machu Picchu wasPachacutec Inca ruler, during the reign of which was in the middle of the XV century, and less than a hundred years after the construction of all the inhabitants of the town of stone disappeared most mysteriously. The town was not destroyed by the conquistadors probably because they simply could not get there. Even today, the participants tours to Machu Picchu to be done the hard way, to see the magnificent terraces on the slopes of a mountain range at an altitude of about 2.5 kilometers above sea level. Sacred mountain shelter was discovered in the early twentieth century and since here is not overgrown popular trail of riddles and mysterious legends lovers.
Briefly about the importance
Member Rank World Heritage ListUNESCO has led to the increased flow of tourists to the ruins of the ancient city. The government has decided to limit the number of visitors and planning tours to Machu Picchu is best to buy train tickets and book tickets to the complex in advance.
To get to the new wonder of the world is possible by train fromCusco with a transfer bus, overcoming the last few kilometers on mountain serpentine in 15 minutes. There are hiking trails on the trail of this Inca, starting there in Cusco, which will have to hire a guide from the local Indians.
The hotel is located almost at the entrance tothe ancient city, asking per night amount equal to the budget of the rest of the trip. But in the neighboring cities of Cusco and you can always find a budget hotel with a nice service and cuisine.
Planning tours to Machu Picchu, it is important to examine the forecastWeather in the region. There is always a strong difference between night and day temperature values, and the most precipitation falls between November and March. The dry season begins in April and then daytime temperatures can reach 25 degrees.
Photo