Airports Philippines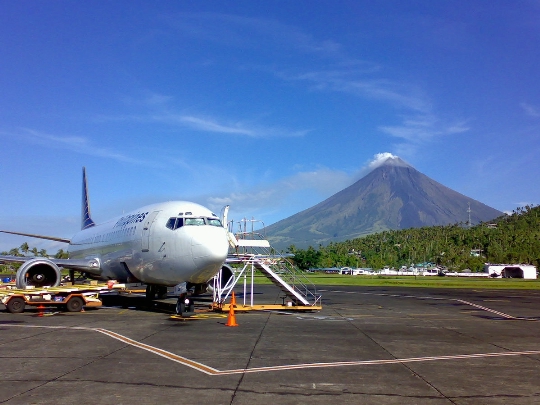 At seven thousand islands is conveniently locatedPhilippines State, and in his piggy bank, there are many tourist attractive for fans of both the beach and active cognitive rest. At airports, the Philippines land travelers, for whom a long flight does not become an obstacle on the way to new discoveries and unexplored horizons.
here the easiest way to get from Russiatransfers in Dubai, Amsterdam, Doha and Seoul - the aircraft of the airlines Emirates, KLM, Qatar Airways and Korean Air will take travelers from Moscow to a maximum of 18 hours.
International airports Philippines
Using one of the options suggested above, the Russian tourists will be in Manila, the capital's airport, but the right to take international flights, there are other Philippine airports:
Clark Air Harbor is located between the cities ofAngeles and Mabalakat. Here land aircraft scheduled flights from Kuala Lumpur, Hong Kong, Seoul, Macau, Singapore, Doha and Cebu. Before the Philippine capital is also a stone's throw away, and 80 km can be reached by buses which leave from the passenger terminal of the clock. Details about the schedule and the airport are available on its website - www.clarkairport.com.
Cebu Airport - the second busiest in the country. Seasonally here fly side Orenair from Moscow Sheremetyevo and regularly to the island of Mactan, where this air harbor, easy to reach by plane airline AirAsia from Kuala Lumpur, Cathay Pacific from Hong Kong, Korean Air from Seoul and Tigerair from Singapore. All additional information can be found on the website - www.mciaa.gov.ph.
Puerto Princesa in Palawan province - nextair gateway to the national park of the same name. Underground River and its surrounding area are listed as UNESCO heritage. Philippine Airlines operate flights to Puerto Princesa from the capital and the island of Taiwan.
metropolitan area
International Air Harbor in Manila is namedNinoy Aquino. City, where the airport and passenger terminals shared by only 7 km and you can reach the center by bus routes to nine, following from all three terminals. Shuttle service is available and a taxi, order to help in the arrivals area.
Infrastructure and airlines
In Terminal 1, served by most international flights, including passengers of airlines Delta Air Lines, KLM, Emirates, Singapore Airlines, Cebu Pacific and the local carrier.
From the second terminal can only fly flightsPhilippine Airlines, but in all parts of the world - from New York and Bangkok to Osaka and Vancouver. Charter flights to Vladivostok are also present in the schedule of Philippine Airlines.
Passengers of the Philippines in Manila airport availableall infrastructure facilities - currency exchange, duty free shops, cafes and restaurants, banks, offices and a post office. Rent a car can be in the arrivals area.
Photo