Philippines Beaches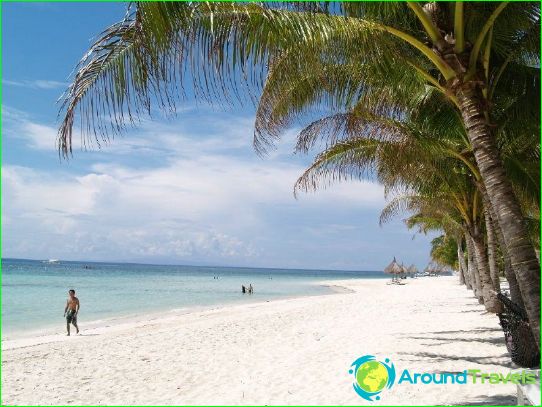 A good time for departure to the Philippines - withNovember to April. It is an archipelago consisting of 7 thousand. Islands, each of which has excellent beach. Some of the beaches included in the list of the most beautiful in the world. As for the locals, they are surprisingly friendly to visitors. The beaches in the Philippines as much as the water sports lovers, and the night partying, and eco-recreation will be satisfied.
The best sandy beaches of the Philippines
The beaches of Boracay island. It is not possible to come to the Philippines and not to go on this island, whose beaches are among the five best in the world. Boracay - a large resort with many shops, restaurants, a casino, with intense nightlife. White beach on the island is covered with coral sand amazingly white, which is almost not heated by the sun. The island has good conditions for windsurfing.
In Cebu (Mactan Island), near the beaches is enoughhotels designed for stays of many surfers and a family vacation. If time permits, you can go to the neighboring island of Malapascua. There is the famous, incredibly beautiful beach of the Bounty, and in coastal waters are found thresher shark.
The beaches of Panglao Island will please the supporters of diving - located around the island clusters of big coral reef. It offers tourists a number of hotels, restaurants, bars.
The area of ​​Puerto Galera on Mindoro island knownall fans of diving. Season for diving all year round, always will be found interesting places for underwater exploration. Come proposed housing, designed for very different wealth.
Surfers also chosen an island to Siargaodelightful small waves and beaches. They compete annually in the Siargao Cup. Those who are just mastering a sport, prefer the deserted beach as a crescent, with palm trees and a cozy bay.
The village of El Nido in Northern Palawan Islandimpresses with incredible sea views, are assessed at the time J.-Y. Cousteau and calm way of island life. Romantics can rent a boat and go to the neighboring uninhabited islands with deserted beaches. The cliffs surrounding El Nido, collect birds nest swiftlets, of which Chinese restaurants serve gourmet soup Nido.
The road to the beaches in the Philippines sometimes takes a long time, but to spend it is not a pity, when at the end of the path awaits heavenly respite from the sea.
Photos beaches of the Philippines