The best resorts of the Philippines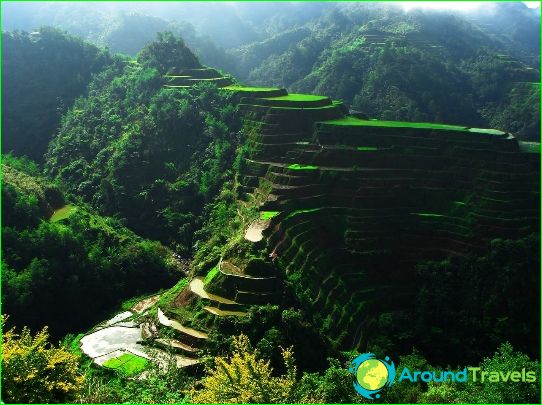 Philippines, lost among the manyoceans and seas, not just an amazing place, but also able to give a "head start" the most popular tourist destinations in South-East Asia. Sea exotics (Cambodia), delicious cuisine and a well-developed resort infrastructure (Thailand), as well as the dizzying skyscrapers (Hong Kong) - that is the Philippines. Therefore, the best resorts in the Philippines - a great mix of eastern countries.
Baguio
The city is located on the island of Luzon, in histhe northern part. Baguio is surrounded by rainforest, which are the main inhabitants of tropical orchids and mosses. They gave the name of this little town, "Baguio" is translated from the local dialect means "moss".
At this point, it placed a summer residence of the President of the kingdom. Externally - a real fairy-tale palace, but it is closed for visits. Admire the structure can only be from a distance.
Tourists will also be interested in otherthe city's attractions. This Cathedral, situated on top of a hill. To get inside, first you have to overcome a hundred steps. The next place - a church Bell. It is a rather unusual architectural structure. Some elements of the building features typical only for the construction of pagodas clearly traced, and combined with the great decorated gates and target windows, making the church completely unique.
Boracay
This island belongs to the title of the capital of the nightlife of the country. It is here try to get all the inveterate party-goers. Waterfront is located along the coated fine white sand beach White Beach is the place to explore all the island's visitors. There are numerous bars and restaurants, discos and shops, where there is certainly souvenir for you.
White Beach, although it is one of the places in the topthe best beaches, pretty quiet place and find a quiet corner here, is not a particular problem. The only exception is during April and May. It's the school holidays.
Balabog Beach, located on the oppositetip of the island, collecting numerous windsurfers and kiters. Due to the fact that there is always blowing in the wind, you can ride every day. The beach has a rolling points, where all necessary equipment can be rented.
Mindanao
It is the second largest and most beautiful islandPhilippines. Mindanao is very different from the other islands: civilization is not too touched this area, and most of the population is represented by ethnic groups.
The main attraction of the island - the beaches. They are completely covered with a completely black sand of volcanic origin. An incredible combination of coal-black sand on the background of bright blue sea make the local landscapes absolutely fantastic.
Photo Philippines resorts