Traditional cuisine of the Philippines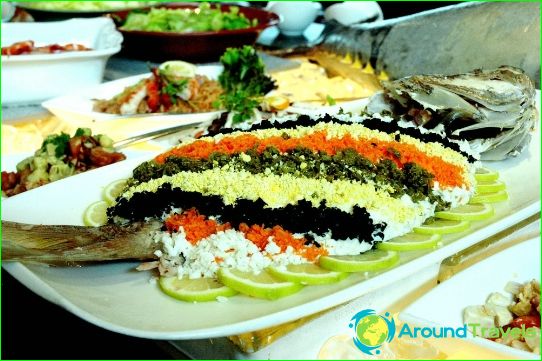 Meals in the Philippines is characterized by rather moderate prices for the products. The same applies to visits inexpensive cafes and restaurants average.
Food in the Philippines
Philippine cuisine has absorbed a culinarytraditions of China, Spain, Malaysia. Dishes of this cuisine is not as sharp, such as Thai dishes - to make the sharpness then use garlic, onion, ginger. Diet Filipinos consists of fruits and vegetables, meat, fish, seafood and rice.
In the Philippines, it is worth trying and meriendupulutan (from small shellfish snacks); ox tails stewed in a sauce based on peanuts (kare-kare); pickled mangoes; roasted pig (lechon); pork or chicken, braised in soy sauce with vinegar and garlic (adobo); fish paste (bagoong); fried white fish (Daing na Bangus). In addition, the Philippines, you can sample a variety of dishes borrowed from Chinese and European cuisines, but interpreted in the local way.
A sweet tooth should eat dessert, which is made from coconut milk and rice pudding (this mixture is baked in the oven, and the finished dish is decorated with ducks eggs and jam).
Where to eat in the Philippines? At your service:
cafes and restaurants where you can sample a variety of local dishes;
International fast-food restaurants, and European networks.
In the Philippines, you can eat in schools,relating to local networks, for example, in restaurants "Chowking" you served Filipino-Chinese dishes, such as fried noodles and rice, and "Jollibee" - spaghetti, fried chicken, rice with sauce.
Drinks in the Philippines
Filipinos are popular drink tea, coffee, tsokolate (chocolate drink), juices, soft drinks of tropical fruits, beer, tequila, rum, gin.
Beer lovers can taste the Philippines San Miguel, as well as Heineken, Corona, Budweiser.
It is worth noting that the alcoholic beverages in the country are cheap.
Gastronomic tour in the Philippines
Going on holiday to the Philippines, you cantaste the local delicacy - the eggs balut (duck egg that's where the fruit is not yet fully formed - he has no feathers and bones). Every evening (17:00), local chefs take to the streets with homemade trays, tables or counters to start trading this delicacy.
Gastronomic Tour of the Philippines should start withvisits to local restaurants with traditional cuisine, and in his spare time you can go to the island of Cebu in the mango gallery - where you can look at how the grow mangoes and try these delicious fruits.
Philippines - a dream not only for those whoprefer beach holidays (there are many beaches, washed by water, stunning azure and strewn with white sand of coral origin), fascinating excursions, scuba diving and surfing, but also a paradise for lovers of good food.
Photos of the Philippines national dishes