Shopping in the Philippines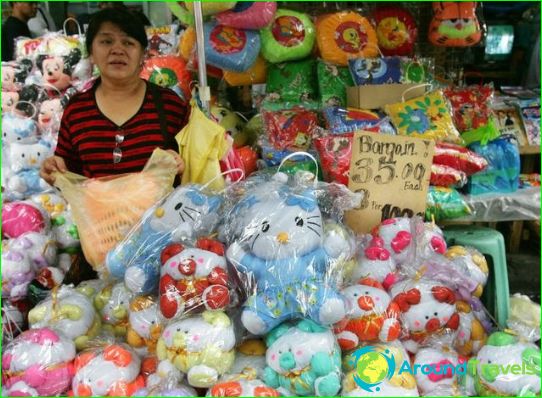 For tourists in the Philippines as souvenirsoffering to buy jewelry of pearls and corals, flamenco guitars, made and painted by hand, dishes made of crystal and coconut, clothes of homespun cloth, wooden figurines, from frog skin purses, rattan furniture, cigars and fruit wines. You can also collect some shells and corals on the beach - the main thing to not get them at the airport.
Where can I buy
In Manila's best shopping. This trade Glorietta Malls, Ayala, Greenbelt in Makati area, and some of the best Asian shopping centers Robinson and SM City North EDSA offer you products - licensed copies of Prada, Armani, Louis Vuitton, YSL, Bvlgari, Gucci, Tod's - good quality at low prices. In these malls very large selection of shoes and leather products. Keep in mind that clothing made in the Philippines, limited sizes - if your size is more than 46, it can be difficult.
In the markets in the shops, on trays, with hands and chat withLand sold a lot of local products. It is noteworthy that most of the clothes sold here will carry the labels well-known companies, although it is made somewhere very far away. Keep an eye on quality.
What to buy
In the Philippines, buy cheap silver, the choice is very big, bracelets, rings, pendants, children's jewelry - best buy in the store Silverworks.
In the shopping malls you can buy clothes made of pineapple fiber, various mats, napkins, furniture, baskets from cane ornaments with precious stones and articles made of precious wood.
Many tourists buy in the Philippines wooden bowls from acacia - quality treatment and solid wood allow it to serve for many years.
In the markets you can buy a different fresh fruit. For transportation is better to buy dried fruit, spices and nuts. He enjoys success local rum and mango wine.

Also, the practice of buying and seafoodpreparing them here in the café by local chefs. If you buy local sweets, will question first - what they look like, because Filipinos for dessert often served noodles - Panza.
In the shopping malls you can not only shop, they often hold exhibitions of local artists, are small concerts.
Photos of Philippine products, stores and markets