Christmas in Krakow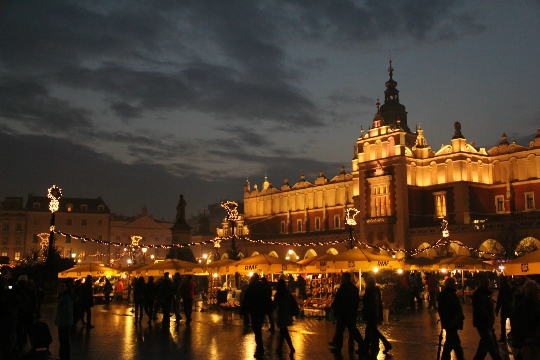 On Christmas Day in Krakow you will have to wait for the magnificent views, the streets and squares decorated with shining installation, and delicious.
Features of the celebration of Christmas in Krakow
The symbol of this holiday is ChristmasStar: as stated in the biblical legend, it was she who lit the way to Christ, the baby. Before the Christmas holidays in Cracow churches set cribs with figures of shepherds, the Holy Family, the Three Kings worshiping Jesus born ( "shopki"). It is worth noting that each year arranged a competition for the best shopku, and the winner is acquired by the National Museum.
On the night before Christmas, sent to Polestemples in traditional service ( "Pasterka"), and the Christmas dinner is complete without baked carp, kuti wheat, seasoned with nuts, honey and raisins, borsch with ears, aspic, zavyvantsi with poppy seeds (rolls of dough). Since the local restaurants in the Christmas period are developing special holiday menu, you should look into the "Hawelka" at this time, "Pod Aviolami" or "Wentzl" (be sure to try the beer soup, rabbit in medicinal herbs, sand cake).
Entertainment and celebrations in Krakow
In December, Krakow offers to take part incelebration "Malopolska Taste of Christmas": located on the shelves in the Market Square, you can enjoy not only local products, but also ready to holiday dishes from fish and meat, and sweets.
If you decide to look at shopki payattention to shopki in the church of the Capuchins, Church of the Bernardine Church of Saints Peter and Paul (each temple creates special scenes, including moving figures and Christmas special routes through the main churches of Krakow developed for tourists).
Since December, developed specialcelebrations, the travelers are advised to visit the St. Mary's Church in a concert of Christmas carols, as well as an evening walking tour through Kazimierz (being a center of Jewish and Christian cultures, there reigns an unforgettable atmosphere).
Travelers should be sure to visit the event, the final Christmas holidays - Procession of the Three Kings (6 January).
Christmas markets and fairs in Krakow
The main Christmas market takes place in thethe end of November at the Market Square near the Cloth Hall - come here is for the purchase of pottery, home decorations, candlesticks, jewelry, calendars, Christmas decorations, hand-painted, postcards, wool, glass and wood. In addition, the fair opens stalls where you can buy a nourishing and delicious food (baked potatoes, cakes with different fillings, cakes, cheeses, nuts, caramel).
Photo