Holidays in Krakow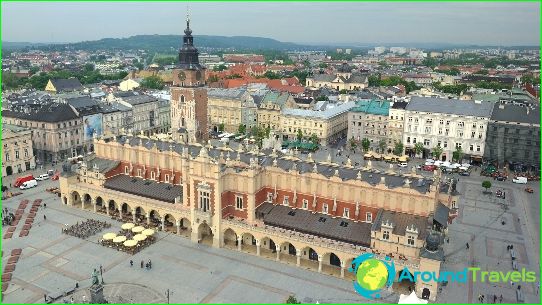 Holidays in Krakow - a great opportunitystroll around the market square and eat it rare national treats, and when you visit the old brewery - the best beers. In addition, resting in Krakow, you can explore the hidden places of the Wolski forest and see the architectural sights of the city Art Nouveau and Baroque.
The main types of holiday in Krakow
Sightseeing: on excursions you inspect the Cathedral, Church of the Assumption of the Blessed Virgin Mary (going inside, in front of your eyes appear sundial Gothic altar, a variety of sculptures, rare stained glass windows), the Town Hall, Church of St. Barbara, the Wawel Castle, visit the National, Museum of Polish Aviation and Czartoryski Museum, and walk along the "Royal Route". For those who are organized tours that involve a visit to the salt mine and factory of Oskar Schindler.
Active: visit Krakow can enjoy themselves in nightclubs "Cocon", "Ermitaz", "Epsilon", "66", Cracow Aqua Park (vacation here will appreciate the fans of water activities), ride on a hot air balloon, to spend time on the beach, which is located near the former hotel Forum (here you can sunbathe, rent chairs, play football or volleyball on the equipped areas, a snack in the restaurant, climb on board the vessel, a swimming pool).
Event: be sure to visit the various international exhibitions (different seasons), the Music Festival "Coke Live Music Festival" (June), Festival of Jewish Culture (June-July), Festival "Fest Granie" (July-August), the Spring Art Festival ( April), festival of gardens (May-June), the festival Malopolska taste (August).
Prices for tours to Krakow
The ideal time to travel to Krakow -May-September. At this time, tours are becoming more expensive, the price reaching its peak in May, the summer months, at Christmas and New Year, during the cultural festival.
Those who wish to save on holiday expenses should look at the rounds, realized in November and April (tours cost is reduced by 30-45%).
On a note!
If you are one of those who are not averse to save on accommodation, you should know that in the summer months, many student residences open their doors to travelers, thus rendering their hotel services.
Getting around the city is convenient to buses, trams and city trains (public transportation begins at 05:00 and ends at 24:00) and taxis.
If you are going on an excursion to a museum before enteringit is advisable to ask whether you can bring your camera or camcorder (in many such establishments shooting is permitted, but at an additional cost).
Before leaving Krakow, do not forgetbuy souvenirs - alcoholic beverages (Zubrovka, plum brandy, wine Gzhanes), cheeses and sausages, Hutsul rugs, salt lamps, jewelry with corals and amber articles with carving on wood and glass.
Krakow (Poland)
Photos rest in Krakow