Water parks in Krakow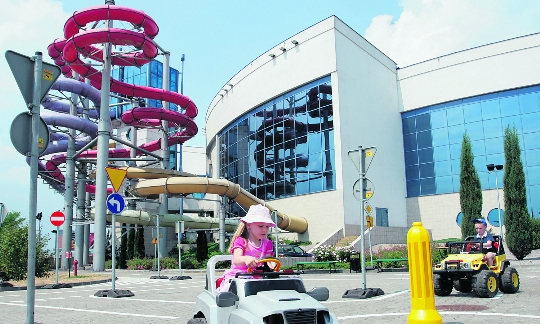 Aqua Park in Krakow focused onfamily and children's rest, so planning your sightseeing and entertainment on vacation, do not forget to write on it and it is a place where the safety of rescuers and provide experienced instructors.
Aqua Park in Krakow
Krakow Wodny Park pleases guests:
pools (the water is maintained at 28-32˚ C), fountains, grottoes, geysers, whirlpool (8);
slides "Alligator" (8 years), "Tornado" (12years), "Salamander" (from 12 years), purple (low complexity, skating is available from 10 years of age, length - 163 m), red (10 years, length - 202 m), pale green (high complexity, access to 13 years of age, length - 107 m) slides;
children's area with a pool depth of 0.6 m, and the pirate ship with water cannons, attractions "Water dinosaur", "extraordinary bird", "Magic Volcano";
2 climbing wall (with which you can jump into the pool);
fitness club, gym, solarium, sauna with different humidity and temperature (salt, steam, Finnish dry, dry aromatic cedar);
cafes and restaurants.
It should be noted that anyone can play water sports - there is a basket for basketball and gates for water polo.
Admission: 1:00 stay on weekdays for adults will cost 23, and on weekends at 25 PLN (unlimited ticket + sauna on weekdays is 52 and on weekends and holidays - 58 PLN). As for the discounted tickets, the children up to 7 years, pensioners and disabled people on weekdays, they will cost 19, and on weekends - 22 PLN (full day + saunas on weekdays is 40 and at the weekend - 45 PLN) .
Water Activities in Krakow
In your plans include a daily pastime in the pool? Book a room at one of Krakow hotel with a swimming pool - "Hotel Stary", "Qubus Hotel Krakow", "Galaxy Hotel".
The travelers, holidaymakers in Krakow, it is recommended to go fishing (the river Wisla) - they will be able to catch pike, carp, eel or catfish.
During warmer months, visitors can go ona boat trip on the Vistula River by boat (they hit the road every 1.5 hours from 10:00 to 17:30, and on weekends - every 2 hours until 18:00). So, for example, you can go on a mini-cruise, 1 hour - it will start at the foot of Wawel hill and pass along the Vistula River (during which time you will have time to swim to Kosciuszko Mound, swim under the bridge, past several monasteries and the Japanese Center culture, as well as admire the Wawel castle with water). If desired, you can arrange a romantic outing for two people on the boat - you can enjoy a meal on the background of the Wawel hill.
Photo