Warsaw - capital of Poland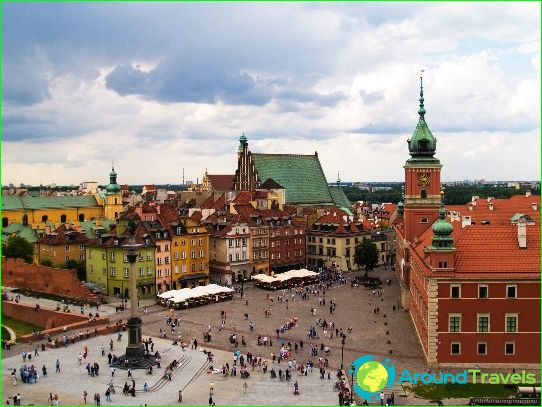 The capital of Poland, Warsaw, once compared withParis itself. After all, it was one of the most beautiful cities in Eastern Europe, but, unfortunately, during the Second World War, it was razed to the ground. Later, Warsaw was rebuilt, and this helped to save the drawing. But still, the main part of the city with a modern design.
Old city
Old Town of the capital only four dozenyears, but it looks as if his best. You go into it as possible, bypassing the Castle Square. Notice the column of King Sigismund III. It is the decision of the governor of Warsaw and became the capital. At the top of the column, a sculpture, dated 1644 year. It is a miracle survived German air raids during the Second World War.
The Old Town can be called an open-air museum, because all the buildings are some historical interest.
Market Square
Status area this place was only in the XIIIcentury. Initially, all the buildings here were made of wood, and a large fire in 1777 burned them to ashes. Then, around the square were erected classical medieval stone buildings.
Area served for fairs, butalso on it and executed criminals. Currently on the Market Square are all massive urban festivals. During the walk you will meet a living relic - an organ-grinder with a parrot.
King's Palace
Palace buildings were also completely destroyedand again restored. Therefore, modern look is fully consistent with its original appearance. Palace Rooms are decorated with original paintings, preserved after the war.
The appearance of the palace is somewhat disappointing. It is more like a large brown box, where the roof is decorated with three spiers. But once you get inside, you find yourself in a real fairytale royal palace with richly decorated rooms.
St. John the Baptist
It is here that the most important for Polanddevelopments. The walls of the cathedral were talking kings and knights-crusaders, was crowned Stanislas Leszczynski and Stanislaw August Poniatowski, a country sworn deputies of the Diet. The cathedral became the resting place and the country's first president - Gabriel Narutowicz.
Kings and nobles resident of doing Cathedralgenerous gifts. One of them - huge wooden crucifix, delivered in Warsaw, from Nuremberg to the XVI century. It has heard many prayers kings of the victory, when they went to another war.
Every year, within the international festival there are concerts of organ music - one of the biggest musical events of the capital.
Warsaw Poland)
Photo