Attractions in Warsaw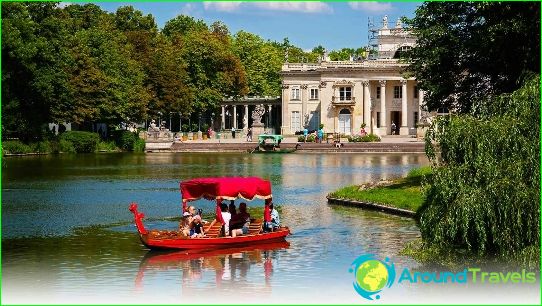 The capital of Poland - Warsaw - until recentlynot of particular interest to travelers. Most of the tourists who come here attracted only ancient monuments, and as for the entertainment, then this was a few tugovato. At the same time, the attractions in Warsaw in no way inferior to their fellow men from Western Europe and the US, so you can be sure that will not be bored here. In addition, the city authorities are doing everything to interest travelers, so it gradually discards its status as a transit point and turns into a major tourist center.
Warsaw water park
An ideal holiday destination for outdoor enthusiastspastime and the best proof of the fact that Warsaw is not only the parks, churches and ancient palaces. This water park is built using the most advanced technology and is a true entertainment complex. Here there are: swimming pools of different length and depth; slides; artificial river; jacuzzi; bath; sauna; bowling; SPA-center.
So everyone who is tired of visiting the localattractions and want to have rest, have to look at the water park in Warsaw. The ticket price is 10 to 15 PLN, and all information about the institution has its http://www.wodnypark.com.pl/ site.
Entertainment Centre Room Escape
It is very unusual for our entertainment places,which, however, it has long been known in the US and China and enjoys great popularity there. The essence of the attraction lies in the fact that two people (or even better a big team) take part in a special quest. For hours they have to find a way out of the room, full of ingenious traps, riddles and puzzles. At the moment, there are several themed areas, different room size and complexity of the passage.
Ticket price is 150-180 PLN, and detailed information on the schedule of work to be recognized either on site or on the official website roomescape.pl.
Warsaw Zoo
Also of interest to tourists, especiallyfor the little ones. After all, you can not only look at the rare species of animals, but also to participate in the entertainment programs, which arranges the zoo administration. Ticket price for adults - 17 zł, for children 12. Does your site http://www.zoo.waw.pl/.
Photos attractions in Warsaw