Shops and shopping centers in Warsaw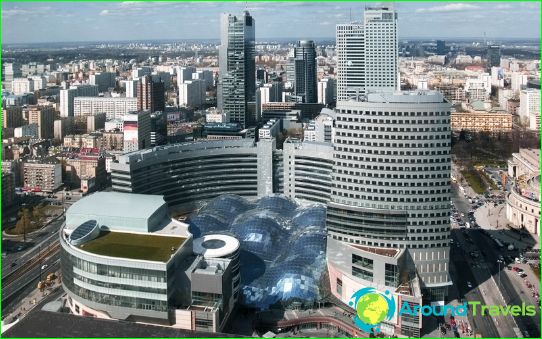 Warsaw fascinates not only by its beauty andtreasures of culture, but also opportunities for shopping. It is a major business center with a developed transport routes. Companies are opening one after another in the city of its shopping centers, which are often open 24 hours a day. All fashion trends appear in Warsaw, without delay, at relatively low prices. So, Warsaw - a popular destination for shopping tourism. Discounts on certain items happen here year-round, total sales after Christmas and in the second half of the summer, too, has not been canceled.
One of the central streets of the city - Jerusalemmall and adjacent streets are the shopping area mainly expensive price segment. If you have a lot of time and love for pedestrian walks are nice to wander around, to choose souvenirs for loved ones, for example, in the Old Town Market Square, sit in a cafe, imbued with history and flavor of the city.
But the time the tourists are not many, soIt is a favorite place for shopping malls. Polish mall offer many additional services to its customers. There fed and watered weary shoppers show a movie or offer to relax in the fitness room, take care of the entertainment of children, while mom go shopping.
Popular shopping malls
Zlote Tarasy shopping center is located next to theTrain Station. From him, just a few stops on the tram on the Avenue of John Paul II, the you can quickly get to the mall especially loved by tourists Arcadia. About thirty minutes must be expended for the trip from the city center to the south on the tram to another noteworthy shopping center - Galeria Mokotow, that on the street. Wo1oska. Centrum Handlowe Marki consists of several hypermarkets under one roof. There is not only the standard assortment set of shopping malls, and stores selling furniture, auto parts, goods for repair. Located outside the city and is suitable if you are willing to spend on the purchase of a full day.
If you are looking for year-round discounts at things fromcollection of leading fashion houses and ready for the season to keep up with fashion, then your path lies in the Outlets. In the vicinity of Warsaw, there are several. Most popular - Fashion House and Factory outlet.
Photos of Warsaw shops