Taxis in Warsaw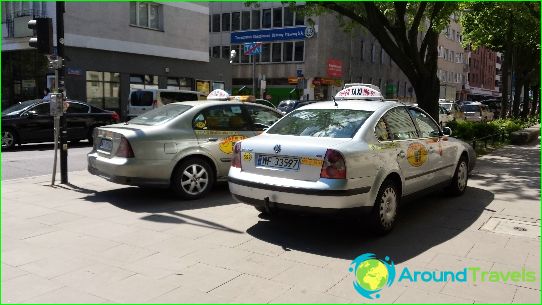 Official taxis in Warsaw (transportation servicesprovided more than 70 companies) - a car with a "Taxi" luminous shades with an inscription on the front doors that "flaunts" Warsaw coat of arms with a mermaid. In addition, they have a registration number, a hologram with the license number, and the rear right door - plate with tariffs.
Taxi Services in Warsaw
"Catch" the car on the street will not work - driversjust do not stop. Take the taxi at the special parking areas (look for them next to the airport, railway stations, hotels, popular attractions) or exercise their calling by phone.
Official taxis in Warsaw presentedthe following taxi companies: City Warsaw: 194-59; Bayer Taxi: 22-196-67; Prestige Taxi (cars of the company are equipped with payment terminals, so the payment can be made with payment cards if desired): + 48-22-86-666-66; Express Taxi: 196-63 (can be called by sms: 723-0-196-63). It is worth noting that some companies provide to its customers a 10% discount if they call a taxi by phone.
Important: on arrival next to the terminal, you can find men with badges that are always ready to catch a taxi for you - it is not recommended to use their services, since the cost of the trip may eventually cost several times more expensive than officially established tariffs.
The cost of a taxi in Warsaw
The following information about fees will help you sort out the prices and find out how much is a taxi in Warsaw:
landing with passengers take approximately 8 PLN;
day 1 km overcome paid the price of 3 PLN, and the night rate (it acts after 22:00 to 06:00, and on holidays, Saturday and Sunday) - 4,5 PLN;
when traveling out of town 1 km paid the price of 6 PLN;
waiting for passengers cost 40 PLN / 1 hr.
If you decide to rent a taxi for a few hours, this service will cost you about 50 PLN / for 1 hour. The average trip from Chopin Airport to the city center costs about 30-40 PLN.
Before we get into the car, it is necessary to make sure that you have a little money - often the drivers are no surrender.
As a licensed taxi Warsawhave counters and apparatus for issuing a check (it is better to pay in local currency - despite the fact that the method of payment will be the euro, for sure, the calculation will be based on an unfavorable exchange rate for tourists) at the end of the trip, you should get a receipt from the driver. Use the services of an unlicensed taxi tour is not recommended, but for those who still use it, it is advisable to negotiate the price before boarding.
Use the services of the Warsaw taxi are reliable, safe and fast means of transport, travelers will be able at any time of the day or night.
Photos Taxi in Warsaw