Transport in Warsaw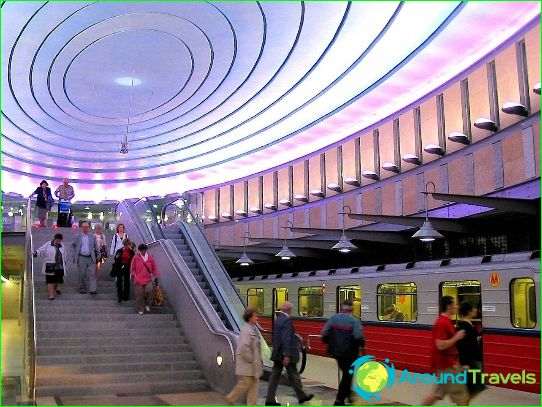 In Warsaw, operate buses, trams, metro. Transport starts at five o'clock in the morning and ends at eleven o'clock in the evening. In Warsaw, there are also night routes, but they differ in a double payment. Tickets can be purchased at any newsstand. The travel can be bought per trip or a day.
Tram
The tram network in Warsaw was established in 1866. It currently consists of 34 lines, the total length of 121 kilometers. Electric cars began to work in 1921.
Giving preference to the tram, take into accountthat the interval can be between five and ten minutes. In the hours - peak operating additional routes that allow people to quickly get to the right place, in spite of the increased passenger flow.
Metro
In Warsaw, there is a unique systemsubway all over Poland, but it is represented by only one branch that crosses the capital from the north to the south, at the same time, connecting with the central part, with the suburbs. Metropolitan started working in 1995. In the near future, people will be able to make full use of the second branch, which will cross Warsaw from east to west, and a third branch, which differs little distance and set up to connect to the center of the southern region.
Each station can be found with the schemeSubway lines and trains. Thus, the drive to any desired location in Warsaw will be very easy, even for tourists. Remember that the metro line runs away from the main tourist routes and shopping centers, and to learn to Warsaw as a tourist town, preference should be given to buses.
Buses
176 bus routes operate in Warsaw. The total length is 2600 kilometers.
Night buses run from 23.15 to 04.30 that should be taken into account in the program hanging. In this interval of time is half an hour at night and in the daytime - five to ten minutes. Warsaw Buses shall adhere strictly to the current schedule.
A bike
In Warsaw, runs a bike rental serviceVeturilo since 2012. Currently, the number of rental items is 55. People are invited to 1000 bikes. Areas of action Veturilo: Śródmieście, Ursynów, Wilanów, Bielany. Bicycle rental is possible from 1 March to 30 November.
After exceeding the rental of 12 hours is requiredto pay a fine. After 13 hours, the operator can report to the police about the theft of the vehicle. For loss, damage, theft of a bike person has to pay 2000 PLN.
Transport in Warsaw operates smoothly, which is a major advantage of the transport system of the capital of Poland.
Photo