Water parks in Warsaw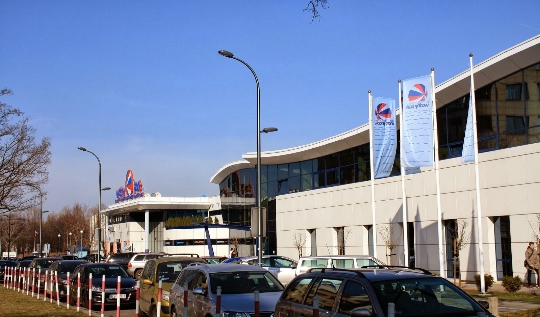 Going to Warsaw, and making a plan of entertainment on holiday, do not forget to add a local water park - thanks to a variety of water entertainment is there to spend a day of fun!
Water Park in Warsaw
Waterpark "Wodny Park" features:
sports, outdoor (open all year rounddue to the fact that the water is heated), children (there is a slide in the form of a baby elephant), leisure pool with water cascades, a waterfall and underwater massage;
Jacuzzis;
river;
baths (Roman, Finnish, Russian, sanarium with scented air - in pairs add floral and pine flavors);
slides of varying heights, the inner and outer pipes (pipe length - 15, 45 and 72 meters);
room bowling court and a squash court (single ticket - 30 PLN / 30 min);
beauty salon (the fair sex can indulge in the passage of the complex beauty and wellness treatments).
It is worth mentioning that take place in the water parktraining in the water - gymnastics for children and the elderly, water aerobics, aquacycling (kind of cardio on a stationary bike in the water under the energetic music) lessons on training and improvement of navigation.
Entrance fee: 1:00 stay costs 25 PLN, ticket for the whole day on weekdays will cost you 95, and on weekends - 135 PLN (wishing to offer to get a family or group subscriptions). It's worth noting that the additional services received in the water park, payable at exit.
Water Activities in Warsaw
Interested in hotel with swimming pool? Look closely at the "Warsaw Marriott Hotel", "Intercontinental Warszawa" (in addition to the pool there is a Jacuzzi, steam bath and sauna), "Radisson Blu Centrum Hotel".
Vacationers in Warsaw is worth spending time onbeach on the bank of the Vistula La Playa - then they will wait for the party on the coast (on the weekends are held Latin dance evenings), badminton and volleyball competitions.
The beach, located on the Zegrze Lake pleasea café, point equipment rental (you can ride on a catamaran), showers, children's playground, a rescue point, events held on weekends (concerts, various competitions). It is worth noting that on the Zegrze Lake opened windsurfing center.
And if you want to relax and enjoy water cascades and artificial pond, you will be able to visit a garden with exotic plants growing there on the roof of the Warsaw University Library.
Another place that deserves the attention of tourists- Aquarium in a shopping center "Blue City": here you can see the world of coral reefs, piranhas, stingrays, bristly puffers, moray eels and other underwater creatures as well as watch movies about the underwater world.
Photo