Where to go with children in Warsaw?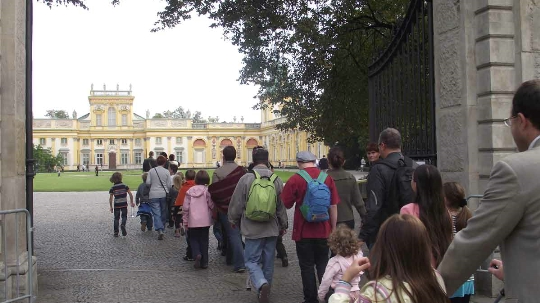 Warsaw is perfect for a memorable family vacation. The capital of Poland has many interesting attractions and activities.
The main entertainment venue
In Warsaw, the picturesque parks, alleys on which nice to walk, castles and other facilities. With children, you can go to the theater, watch a movie, take a ride on a steam train.
The city is the Science Center "Copernicus"having no analogues in the country. Permanent exhibition center allows you to get acquainted with the scientific world. Children get an idea of ​​the different physical phenomena. In addition, there is a planetarium, in which three-dimensional format show planets, stars and other celestial objects. Unusual establishment "Copernicus" is considered to be the center of the theater with the robots. The daily performances involving robots. For kids up to 6 years is a special interactive exhibition.
If you want to take a walk in the fresh air,Scheslivsky go to the amusement park and sports. It has existed since the 60s of the last century. Year-round in this park open ski jump. Scheslivsky Park is located in the central part of the city and is ideal for walks at any time of the year.
Family Fun offers cinema"Muranov." During the day there are sessions for parents with kids. Leaving a child in a children's club, supervised by the tutor, you can watch a movie. Additional fee for this service will be charged. A ticket to the cinema costs 15 zlotys. Planning cultural events, be sure to purchase tickets in the children's theater "Gulliver", "Doll" and "Bai".
Architectural sights
To see the historical sites of Warsaw,go to the Old Town. This is a noisy place with ancient streets and beautiful buildings. Houses there are restored and feature mansard roofs and colorful facades. Tourists are offered a walk in the open carriage (cab), horse-drawn. Ride along the old part of the city, you can relax and have a meal at an outdoor cafe. Interesting architecture and amazing and New Town. On its territory is located the Franciscan church, the Virgin Mary Church. There you will see the majestic Royal Castle. For walks recommended Królewska beautiful park Lazienki, where there is an ancient palace and park ensemble. The park is home to squirrels, peacocks, swans.
From shopping centers in Warsawnoteworthy shopping mall "Golden terraces". Its building differs futuristic style and looks very unusual. On the vast square are hundreds of boutiques and shops. There are restaurants, cafes and cinemas.
Photo