Currency in Poland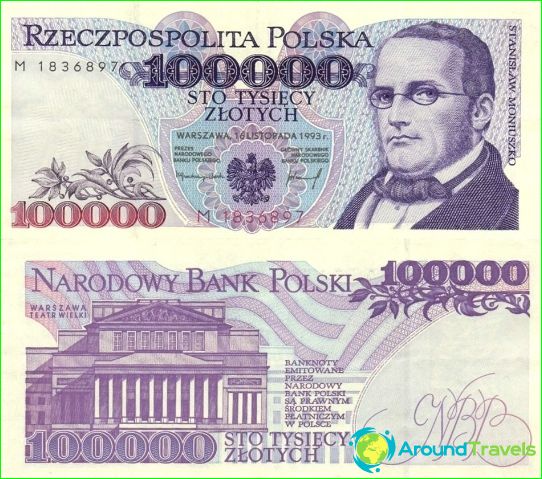 What is the currency in Poland - many think aboutthis before traveling to that country. Maybe it is the euro? After all, Poland is in the European Union. Indeed the country is planning to adopt the euro, but this has not happened yet. The official currency of Poland since 1924 is PLN. Traditionally, money in Poland turn into coins and banknotes. There are coins of 1, 2, 5, 10, 20, 50 pennies (1 zloty = 100 pennies), and 1, 2 and 5 zloty. Denominations are available in denominations of 10, 20, 50, 100, 200 zlotys.
What currency to take to Poland
Of the foreign currency into the countrypreferable to take dollars or euros. It is with these currencies you can make a profitable exchange, thus avoiding problems with the exchange. As for the ruble, this is not the best option. If can find where to change the ruble on the zloty, the exchange rate will be very disadvantageous.
Import of currency in Poland is unlimited, ie You can enter any amount of money. However, there are some conditions for the import amount of more than 10 thousand euros, you must fill out a declaration. The same rules apply to the export of currency from the country.
Currency exchange in Poland
The tourists there are plenty of opportunities for the exchange ofcurrency. Local money in Poland are available in airports, banks, exchange offices (in this case must take into account that the country has a private exchange offices, with them need to be careful, because you can run into a scam). Also, do not be shy to ask additional questions, such as - How do I get zlotys after the exchange? What is the Commission for the operation? Etc.
Plastic cards
Credit cards are very common in Poland, that is.e. the problems with payment of services on the map will not arise. Of course, it is preferable to have a map of international payment systems - VISA, MasterCard. ATM network is also developed, in which you can withdraw cash. However, if the bank allows you to pay for services in other countries, not vzymaya Commission, the cash is almost not needed.
In addition, many stores have separate offices, where you can pay for purchases in euros.
Why Poland will not go euro
Poland joined the EU in 2004, but untilIt has not yet been passed to the euro. This is due to the fact that the country does not meet the economic requirements, which are established EU. On the euro it was planned to go in 2012, but this did not happen, and now according to some predicted after the adoption of the euro in 2014. I should add that some Polish party against the adoption of the euro, they explain the fact that the country will lose autonomy in financial policy.
Photo