Rest in Poland in February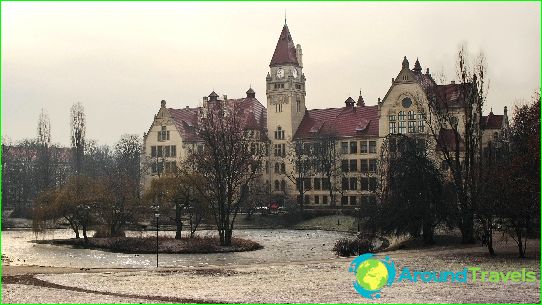 Throughout the winter in Poland is about forty snowdays, and most of the snow falls in mountainous areas, where it can stay for a long time. Many tourists prefer to go to Poland in February, seeking to visit the ski resorts and enjoy active recreation. Ski resorts attract a snow-white veil, pleasant weather. Day can be about 0C, but at night possible cooling to -10C.
The warmest weather in Poland in February is observed in the vicinity of the Silesian Lowland.
The average air temperature during the day is about 0C, night - -5C.
Ski resorts in Poland
1. Zakopane is recognized as one of the best resorts in the southern part of Poland. Zakopane is the highest city in the country, which is located at an altitude of 750 - 1100 meters above sea level. Zakopane are six major ski areas, the range of a height of 860 - 2000 meters. Ski resort represented more than 60 ski lifts. The total length of the route exceeds 65 kilometers. Importantly, Zakopane attracts not only an ideal opportunity for outdoor activities, but also restaurants, cafes, shops and souvenir stalls. Enjoy the best winter vacation!
2. Karpacz is a ski and wellness resort located at the foot of the Śnieżka Mountain, which reaches 1602 meters. Every year, the infrastructure is getting better. However, the main property are still the route, which can be compared with the Austrian. Most of the features targeted for skiers with medium preparation, and beginners can take a course in a special ski school. Number of lifts and pistes - 7. In addition, there is a possibility for skiing off-piste!
3. Krynica - a resort that deserves comparison with Karlovy Vary. The local attraction is the road that leads to the top of Jaworzyna Krynicka (1114 m above sea level). Here you can fully enjoy an active holiday!
Holidays and festivals in Poland in February
The Krakow Festival held annuallyShanties sailor songs. Festival visitors can enjoy a special sound sailor's songs and poetry, sea ballads, songs written based on folklore motifs Shotlandii.Shanties Ireland and was first held in 1981. Currently shanty festival is one of the most important cultural events in Poland. The number of participants exceeded 150!
In Wroclaw in February, you can attend the festival of contemporary Polish music, learning the peculiar culture of Poland.
Visited Poland in February and enjoy a holiday spent!
Photos recreation in Poland