Rest in Poland in May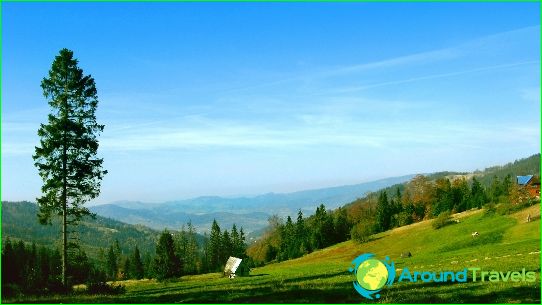 The country, has found a spot in the center of Europe with access to the sea, mountains and its own rich past, can surprise any visitor. It can be confused by the wealth of proposals.
Rest in Poland in May, may coincide with a rich excursion and informative program, outdoor recreation in the most beautiful places of the country.
Weather in May in Poland
The final month of spring speaks volumes about the imminent onset of warm days and opens up prospects for a beach holiday in Poland.
Mean temperature background in MayPoland, long-term observations by local meteorologists, up +15 ° C. It is clear that in the north and the south of Poland, on the Baltic coast and in Zakopane Tatras temperature can vary significantly.
Mazury Lake District
Millions of years ago the glaciers retreated, leaving on the territories of modern Poland, its many lakes tears. Tourists keen on the environment, will find much of interest in the edge of the Masurian Lakes.
2000 lakes surrounded by protected forests,landscape parks leave impressions, breathtaking, and vibrant memories. Something for everyone will find supporters of solitude and quiet contemplation. The active-tourists will fidgets as much energy to make.
The Park "Bialowieza Forest", having a national status and covers the territory of several countries, you can see these relict forests and the forest of the king of this place - the bison-handsome.
Celebration of the Third May
Poles do not like to come up with namessome holidays, they simply point to the number, which marks any given event. So the most important in the life of the Polish state was called the day, which can be translated as the National (or folk) festival of the third of May.
On this day in the most Catholic country in Europenecessarily held thanksgiving services. But apart from that, tourists can visit the numerous concerts, which take place not only in the halls, but also in the open air.
liberation Day
Visitors to Poland in early May,lucky enough to participate in one more important event - the celebration of Liberation Day. Date of the meeting - on 8 May. Features of the - military parades, the laying of wreaths at the memorials and war monuments.
Mothers Day
For the past hundred years the Poles celebrate May 26th Mother's Day. Family travel companies can join the celebration and give gifts and flowers mums-traveler.
Photos recreation in Poland