Rest in Zakopane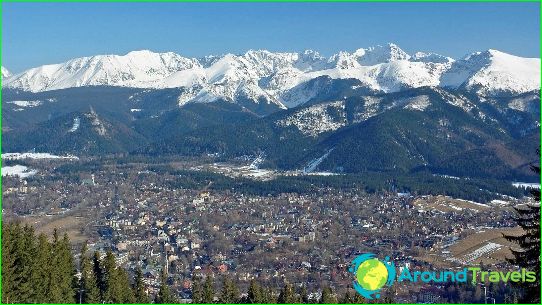 Rest in Zakopane is very popular not only among fans of hiking trails and ski slopes, but also wooden architecture and original highlander folklore.
The main types of recreation in Zakopane
Active: everyone can go climbing, go for a walk on a paved hiking trails, ice skating at the rink, hang-gliding, to have fun in the water park Aqua Park Zakopane, a mountain tram ride on Kasprowy Wierch Tram. Yet the majority of holidaymakers flock to this resort for skiing. For beginners are ideal simple route Gubałówka ski area (here the snowboarders rush because there's half-pipe), for snowboarders and professional skiers - black and red track top Kasprowy. A route Nosal (there is a lift, 9 lifts, slopes with artificial lighting) will suit everyone: from the top of the mountain can go down the pros and the bottom of the slope - to train beginners. Beginners should pay attention to the center Kozinets - he has 3 rope tows (1 - for beginners), ski school, equipment rental item, cafes. It is worth noting that if you want you can buy a subscription for 12 lifts.
Sightseeing: on numerous tours offer tourists to explore the temple of Our Lady of Fatima, the Church of the Holy Family, to visit Villa Atma, rock (rock botanical garden), Dunajec Castle, go to the Valley of five lakes Tatrzhansky National Park, to the caves Koshchelinskoy Valley.
Wellness: improvement in Zakopane is possible thanks to the mild climate, the water from the mineral springs, mountain walks, spa-procedures, swimming in the indoor and outdoor pool, working on the basis of natural thermal water sources.
Prices for tours to Zakopane
In a rest depending on travel purposesZakopane is possible all year round. By increasing the cost of tours is ready in the summer and winter months. And expect to buy more democratic tours in Zakopane is possible in the off-season (March-April, October-November).
On a note!
In Zakopane should be very careful, especially in crowded buses and trams - there you can become a victim of pickpockets.
If you plan to go hiking through the thick and tall grass or live in a camp, it is advisable to go in the pants.
In memory of the holiday in Zakopane you can bringcheeses and sausages, alcoholic beverages (bison, plum, sweet wine Gzhanes), salt lamps, carpets, jewelery with coral or amber (it is worth considering that Poland can not take out anything that is made prior to 1945).
Photos recreation in Zakopane