New Year's Eve in Zakopane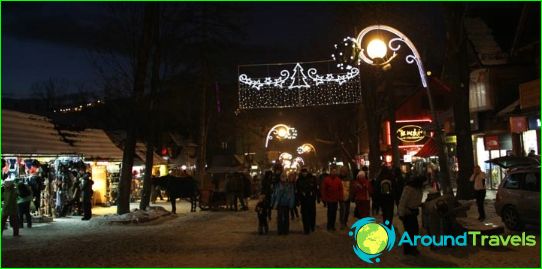 Winter holidays have long ceased to be associatedOnly with Olivier, tangerines and endless movies on all television channels. Most Active travelers prefer to celebrate the holidays on the ski slopes. He raced with the wind on the slopes and catch the adrenaline in the blood, especially nice to feel loved to attack childhood holiday. That is why the New Year in Zakopane in Poland is very popular among tourists from all over Europe.
For the "penguin" and the pros
Zakopane, without a doubt, the most popularPolish ski resort. It was organized as early as the middle of the XIX century, but today's modern facilities and great infrastructure make it possible not to think about his age. Located in the Tatra Mountains, 110 km from historic Krakow, Zakopane is suitable for green beginners and advanced professionals. The largest ski area located on Mount Kasprowy Wierch. The local tracks are classified and labeled complex especially black.
The longest downhill stretches nearly 7 kilometers, andvertical drop on the mountain more than 900 meters. Gubałówka area is famous for its beautiful views of the Tatra Mountains and the vast expanses of the valley below. Funicular from the central part of the resort gives athletes in less than four minutes. The local route, but only six of them, are of legitimate concern to middle-level athletes and their companions advanced. And on the slopes and spend several training exercises are the main newcomers. The longest trail - about one and a half kilometers to dosochnikov equipped with a good halfpipe.
Photos of New Year celebrations in Zakopane