Prices in Poland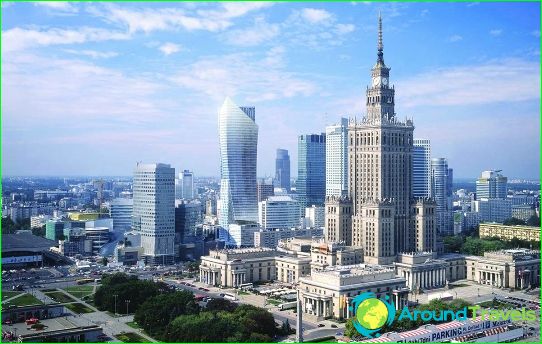 Prices in Poland is much lower than the average in Europe and neighboring countries (Belarus, Slovakia, Ukraine).
But the cost of living in Warsaw, Gdansk and Krakow is slightly higher than the national average.
Shopping and souvenirs
Shopaholic is better to come to Poland in mid-January and mid-July - this time you can purchase the desired items with discounts of 50-60% -ymi.
But in addition to sales, to get clothes from leading brands at affordable prices, you can always trade in the outlet centers (the prices are the most underestimated).
What to bring from Poland?
- Products Boleslavsky ceramics, carvedwooden masks with a typically Polish person, souvenir gnomes, paintings of famous modern artists, amber products, branded the Polish man's hat, Hutsul carpets, natural wool, fur and leather;
- Set collection of Polish alcoholic beverages (Goldwasser, zubrovka, gzhanes), Krakow sausage, homemade goat or sheep cheese.
On shopping in Poland you can buy sausages andcheeses from 3 euros, alcoholic drinks - from 10 euros, salt lamps - from 10 euros, Hutsul rugs - from 120 euros, jewelry - from 5 euros, highlander slippers - from 10 euros.
Excursions
Going on a sightseeing tour of Oldthe city of Warsaw, you will be able to visit the Royal Castle, the Museum "Łazienki Park" at the Palace on the Water, St. John's Cathedral, stroll through Lazienki Park, Market Square and other streets of the Old Town.
The approximate cost of the tour - $ 30.
And on trips to the Wieliczka Salt Mine, youvisit a real underground city on 9 levels (underground chambers and huge halls are interconnected by long passages, which are decorated with bas-reliefs and sculptures made of salt).
The approximate cost of a 3-hour tour - $ 30.
Entertainment
Resting in Krakow, is worth visiting the water park "Park Wodny" - he will give you 8 roller coaster ride, pools, geysers, hot tub, fountains.
The approximate cost of entertainment - from $ 10.
Visiting the Planetarium in Torun, you'll see a starthe northern and southern hemisphere, and due to the effects, which will create a special projector, you will see the sunset and sunrise, the aurora borealis, meteor shower.
The approximate cost of entertainment - from $ 10.
Transport
The bus - a common form of transport in Poland: 1 trip you give from 0.7 euros for travel, valid for 1 day - 4 euros, and for travel, valid for 3 days - 7 euros.
If your vacation plans include cost (cheap hotel, cheap cafes, public transport, not alcohol), you will need about 25-35 euros per day for 1 person.
Photo