Shops and shopping centers in Gdansk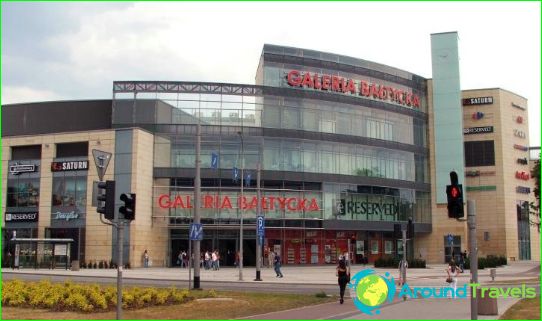 The tourist trips each roominvolve different aspects. Someone looking for a meeting with the sea, and it sometimes even quite walks along the quays, if the weather to what no longer has. Another attracts the rich cultural and historical heritage and the opportunity to stroll through the old streets, has retained its appearance from time immemorial. Others set themselves the aim of thorough combing the stores in the hope to buy something original and at the same time save money. Of course, most tourists skillfully combine all the delights of leisure tourism, Gdansk and meet a variety of needs.
Shopping - a very popular target for visitingGdansk. The city has many shopping centers, lower prices, a varied assortment. Goods here mostly middle class and everyday. So often in Kaliningradians your day off to go to Gdansk or just along the road in his direction for inexpensive food or medicines.
Popular outlets
Shopping center "Baltic Gallery" is onone of the central streets Aleja Glundwalzka. Movie theaters, catering and a variety of shops in the shopping center there, all as polozheno.Okolo 200 boutiques offer clothes and accessories of Polish and other well-known European brands:. H & M, Peek & Cloppenberg, River Island, Tommy Hilfiger, Zara and other prices slightly inflated iz for targeting tourists. Therefore, visit "Baltic gallery" better in the season of discounts and sales.
"Madison Park" shopping center is located on thethe intersection of Rajska and Jana Heweliusza, on the edge of Old Town. Shops in it a little less - about 100, but prices are lower than in the "Gallery of the Baltic." The interior is original. Sculptures of famous people of Gdansk and the image of the city symbols tell about the history and beliefs of the local people.
Outlet "the Fashion House" is located on the outskirts of the city. Prices there are very attractive, discounted branded goods last season averages of 30% and may be as high as 70%. The very cozy shopping mall with plenty of shops, restaurants and coffee machines. Outwardly, he is equipped for fishing village. And that tourists do not get lost, the way it highlights the real lighthouse.
In Gdansk, well presented products for childrenshops «Akpol Baby», «Mama i ja», «Bobowozki». In the first of two similar range - toys, clothes, care products. In the latter, as the name implies, a large selection of strollers, car seats and other children's transport.
"Auchan" and "Ikea" popular with visitors to Gdanskon private vehicles. They are at Tricity bypass road. They buy high quality cheap Polish food items for a comfortable life.
Pictures of Gdansk stores