Taxis in Poland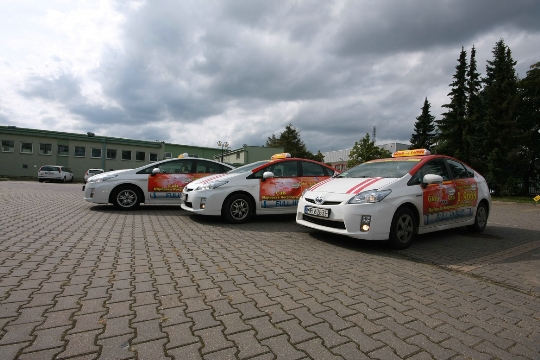 Most of the tourists love to Poland forattention to each guest a variety of unique cultural and historical monuments worthy of attention, hotels in different price ranges. Taxi in Poland - one more reason to admire the ability of local people to organize the work.
In this country there are public and privateorganizations engaged in carting. The Government monitored the pricing process, in particular by setting the upper limit value of a kilometer. Moreover, the lower limit is not regulated.
Prices for the services of Polish taxis
The fare for a taxi in Poland depends onmany indicators, including day or night to make trips within the city, the surrounding area or in nearby town, whether the passenger baggage, and the like.
There is a kind of division into three tariff:
First, the cheapest fare - travel through the city;
the second, more expensive, is included at the exit of the city;
Third, the most expensive, the journey from one city to another Polish.
The cost of first rate starts at 2 zlotysper kilometer (from corporations that have established the lowest price). There are companies that are already here offer more expensive services. When traveling outside the city begins to operate so-called second rate, the trip price is increased by 50%. This rate also applies to weekends and days that are considered public or religious holidays.
If you want to go to a neighboring city or district,the cost increases by 50% (or two times the initial rate). This is the third rate, which was called "return", ie the passenger actually pays for empty cars returning to his hometown.
taxi
Another excellent innovation - in Polandcall a taxi there is a single number that is very easy to remember, - 919. In addition, you can use fixed phones of different services. For example, the following companies operate in Warsaw:
Express Taxi - phone 63 196;
Gold Taxi - phone 88 196;
Super Taxi - phone 22 196;
City Warsaw - phone 194 59.
You can call a taxi in the Polish capital and from a mobile phone, and some companies specifically point out a very simple cell numbers: 22 866 66 66 (Prestige Taxi), 22 677 77 77 (Merc Taxi).
For a large company
In Poland and the cars destined fortransportation sufficiently large groups. Accordingly, the cost and landing, and the mileage will be significantly higher. Thus, the difference in landing in the car could reach almost 40 zloty (PLN 8 - in the usual taxi, to 50 zlotys in 8-seater).
Photos Taxi in Poland