Water parks in Sopot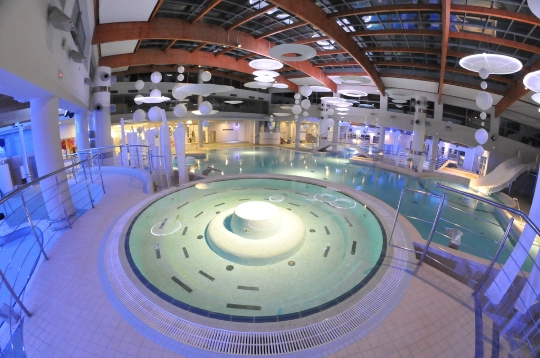 On vacation in Sopot should look to the local water park - here enjoy both children and adults, because it is considered one of the best places for a family pastime.
Aqua Park in Sopot
Aquapark Sopot pleases visitors:
5 swimming pools (2 of them - public, and they operate only during the warmer months), and in the pool area, there are places where you can feel the effects of the whirlpool;
"Island" with the channels from which the walls "knocked out" geysers;
water slides (blue slide "Turbo" has a length of 70 m, yellow "Familijna" - 110 m, the height of the two - 12 m; and the white hill for joint family descent);
"Wild River" (river length - 61 m: it flows at a rate of 600 liters per second);
wooden terrace with sun loungers, where you can lie back and soak up the sun;
"The world of saunas" a man and a Finnish sauna;
massages, whirlpool baths, a solarium and a hall for a game of bowling;
a playground with a swimming pool for younger guests, as well as geysers and water cannons;
bars and restaurants.
Ticket prices on weekdays: 36 PLN / 3 hours 46 PLN / whole day. Ticket prices for the weekend: 3 hours - 40 PLN / 3 hours 50 PLN / day. With regard to children, the discounted tickets are sold with 20-30% discount.
Water Activities in Sopot
To live for a holiday in a hotel with a swimming pool, travelers are advised to stay in the "Sheraton Sopot Hotel", "Mera Spa Hotel", "Sofitel Grand Sopot" or another hotel.
Connoisseurs beach holiday, for sure, will be happyto stay on the sandy beaches of Sopot, stretching for 4.5 kilometers (for a holiday with the kids thanks to sloping descent into the water, and the absence of steep slopes), where you can find the showers and changing rooms, comfortable bath, playground beach volleyball (in the summer months, arranged the crosses on the beach and tournaments in volleyball, where you can take part), children's area with inflatable slides, bars and fish restaurants. In addition, there can use the sun loungers and parasols for an additional fee, paddle boats, as well as to hire the services of schools for windsurfing and water sports equipment rental stations.
It is worth mentioning that a trip to Sopot necessarilyIt must be complemented by a stroll on the wooden pier (it is a marina for sailboats and yachts, on either side of it is a beach and a park, if you wish, you can go on a boat trip to admire the panorama of Sopot, Baltic Coast) - along it benches where you can relax and look at the end of the pier to the bar and stand on the viewing terrace. In addition, the mall often arranged music concerts, which is worth visiting.
Photo