Water parks in Zakopane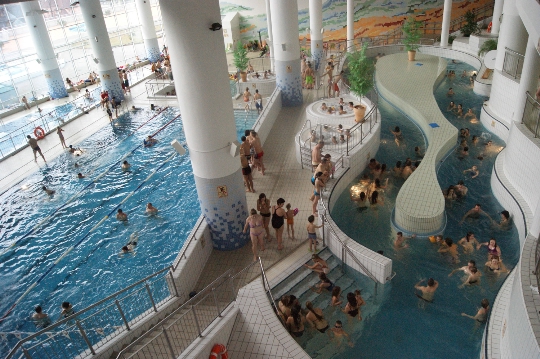 After skiing and activehanging in Zakopane, travelers are advised to have some fun in the local water park (due to the fact that one of its wall is glass, you, as a guest will be able to enjoy the nature of Polish).
Aqua Park in Zakopane
Aqua Park Zakopane pleases visitors:
open and closed slides, height 2,3-16,7 m- Among them are "Wild River" (simulates the flow of bubbling mountain river), green (length - 166 m) and the red slide (length - 106 m), as well as the unusual slide, "testers" which first commit a few somersaults, after which they endure to the outside outdoor swimming pool (in the pool you can swim along the paths or play without disturbing anyone in the company of friends, the more that an area of ​​390 square meters);
area for children with slides, a mushroom fountain, and water toys;
rooms with swimming pools (indoor, outdoor, sports, recreation, geothermal, children, a hydromassage);
6 jacuzzi and several types of saunas - Finnish,hydrochloric acid, a bio sauna, aromatic steam room, and even then there is a lounge and "winter" cabin (humidity - 45-55%, temperature - 10-15˚ C; strengthen the circulatory system, burn fat, cellulite reduction);
bowling (5 tracks);
fitness center (aerobics, step, zumba, classes "Healthy Back" and "flat stomach");
terrace with loungers for sunbathing;
shop where you can buy swimming supplies;
cafes and restaurants offering visitors hungry to eat a hot meal, a variety of snacks and refreshments.
Admission (1 hour) - 20PLN / adult (3 hours - 39 PLN) 17 PLN / Students (3 hours - 33 PLN) 13 PLN / 3-16 year-olds (3 hours - 25 PLN). If necessary, you can buy a family ticket valid for 2.5 hours (2 + 1) - it will cost you 80 zlotys. If you decide to rent a towel, you will be asked to pay for this service is 5 zlotys (for lost towel will have to pay a fine in the amount of 35 PLN), and if you come to Zakopane Aqua Park on your own car, you should keep in mind that there is a paid parking - it will cost you 1 PLN / hour. If we talk about the sauna area, the cost of 1 minute of your stay visitors to 0.5 zlotys. Cost of the ticket to the water park + sauna area (all day) - 65 PLN / adults and 58 PLN / children.
Water Activities in Zakopane
You for water treatments like? Then, you are advised to stay in a hotel full at the disposal of a swimming pool - in the "Grand Nosalowy Dwor", "Aries Hotel & SPA" or "Hotel Murowanica".
Who can make rafting on the riverDunajec - Szczawnica to the pier (the shutter time - 2 hours) or Krościenko (the shutter time - almost 3 hours). On average, such entertainment for adults costs 50, and children - 30 PLN.
Photo