Water parks in Wroclaw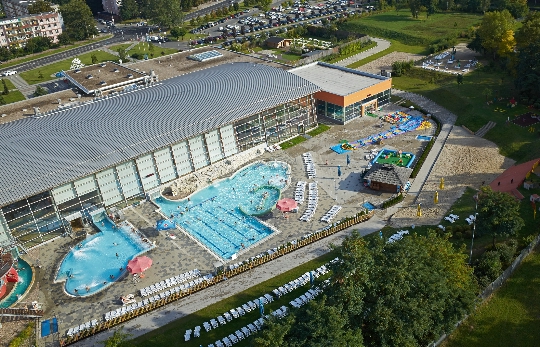 Water Park in Wroclaw is one of the best in Poland, therefore, intending to spend time in the water complex, you probably will not be disappointed and decide to come back here again!
Water Park in Wroclaw
Wroclaw "Wroclawski Wodny Park" offers:
water slides ( "Turbo", "Springboard");
recreational, sports pool with 8tracks (a separate area where you want to buy a separate ticket 1 hour visit is 13-16 PLN) and the wave pool where the temperature is maintained at + 30˚ C, and the wave can reach 70 cm in height;
"Lazy river";
children's area, where there is a playground, swimming pool and slides for kids;
pirate ship with water cannons;
spa-center (visitors waiting massages and wellness treatments in the form of a salt bath and hammam Arabic);
area sauna with Jacuzzi, a Finnish and a bio sauna,Roman steam bath, Thalasso pool, "ice" fountain, hall with cold water (good news for the ladies - a certain day of the week sauna area is only open to them, so that they can relax and enjoy the peace);
a food court, bars and cafes.
A ticket for the whole day will cost 60 PLN and a family ticket (2 + 3) - 120 PLN.
Water Activities in Wroclaw
Before the trip to Wroclaw, travelers can stay at the hotel with a swimming pool, for example, in "Hotel Monopol Wroclaw", "Grape Hotel", "Qubus Hotel Wroclaw" or other.
Tourists are recommended to include in the programActive recreation Afrikariuma-Oceanarium (adult ticket costs 30, and children - 20 PLN) - here they will meet with about 100 species of ocean fish and animals (to observe the life of animals are special terraces and underwater tunnels). First, they will meet in the Red Sea area, with its coral reefs and colorful fish, then in East Africa area (you can see aardvarks and hippos, as well as the underwater creatures as fish from Lake Tanganyika and Lake Malawi) and the Congo Jungle (you can meet with manatees and crocodiles). In addition, the aquarium will appreciate the presence of waterfalls (their height is about 2 m).
Interested rest near the water? Head of the River Odra - here you can fish, boat, place for a picnic (for this activity fits the entire area along the coast).
As for lovers of river walks, theyoffer a ride on the water routes of Wroclaw, boarded the steamer or Wiktoria Nereida (one of them carries up to 100 passengers). It is worth noting that during the holidays, and from Friday to Sunday tourists are offered to go on a night boat trip (visitors can rent a boat on an individual basis).
Photo