Sea Portugal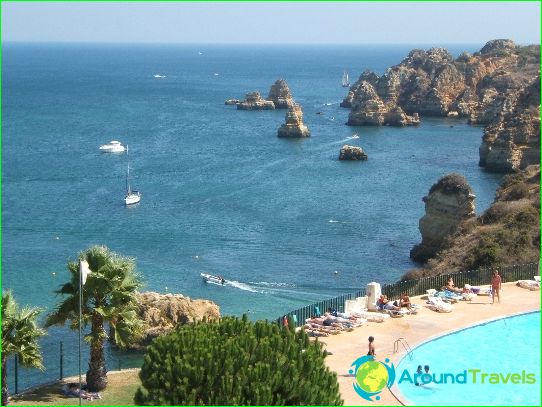 Outskirts of the Old World, is located on Portugalwest of the Iberian Peninsula, and its shores are washed by the Atlantic Ocean. In other words, the question of what the sea washes Portugal, you can answer that her western and southern boundaries are looking at
Atlantic Ocean
In earlier times, the concept of "Portuguese Sea"It included a much larger number of water basins, as this country is considered one of the largest colonial empires in the world. In the fifteenth century, Portugal has reached its greatest prosperity, and the consequences of its expansion to the west began many colonies and dependent territories. Today, for example, says in Portuguese Brazil, the former once the colony.
Beach holidays
Destinations rest for those who are looking forthe answer to the question of what the sea in Portugal are surfing and beach relaxation. Sunbathing and swimming on the beaches of Portugal's best in the southern part of the country. Summers are warmer and long, and the water temperature in the ocean reaches 23 degrees in July and August. The climate in the north of Portugal, defines the Gulf Stream, forming cool weather in summer and rainy and warm - winter.
The beaches in the country may have different coverage - fromsand to pebbles of medium size. On the island of Madeira place for swimming and sunbathing are made artificially, as the coast is too steep and rocky. Admission to all Portuguese beaches are free, and rental of umbrellas and loungers rather expensive. The swimming season starts at the Lisbon Riviera in the late spring and lasts until September. On the islands of the warm Gulf Stream allows you to make water treatment from March until the beginning of winter.
Surfing as a lifestyle
Sea Portugal - this is a great surfing, which is the local waves is considered ideal. In the country there are a few popular places to practice this sport:
Peniche - one of the most famous beaches for athletes of any level of preparedness. The nearest airport is in Lisbon at a distance of a little less than 100 km.
Sagres - the local waves are so impressive that the small village is considered one of the coolest surfer on the pedestal of honor.
Carcavelos - ideal for beginners, thanks to waves of sound and well-developed beach infrastructure.
Ericeira - unlike previous, nemnogolyudny beach with perfect waves for advanced and elegant fish restaurants in the neighboring town of Mafra.
Photos coast of Portugal