Airport Funchal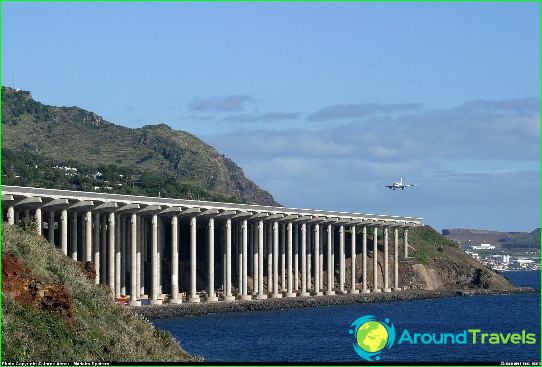 One of the largest airports in PortugalIt located on the island of Madeira, and belongs to the city of Funchal. The airport is located about 15 kilometers from the city, near Santa Cruz. According to the importance of the airport in Funchal occupies fourth place, behind Lisbon Airport, Porto and Faro.
Every year served more than 2.3 million passengers, the bulk of which is serviced by low cost airlines.
The airport has one runway,which is one of the hardest in the world to land. The difficulty lies in the fact that before boarding a plane to be sent to the mountains and at the last minute need to dramatically change the course of the airport runway. At the moment, its length is 2777 meters.
services
Funchal airport is ready to Portugueseprovide its guests with the most comfortable conditions of stay on its territory. Hungry travelers can visit cafes and restaurants, working at the terminal. Here you can enjoy national and international cuisine. In addition, tourists can always visit shops where you can find various goods, from souvenirs to food and cosmetics.
Also, the airport operates a medical center which is ready to provide medical assistance to those in need.
Among the standard services can be distinguished ATMs, banks, post office, currency exchange, luggage storage, etc.
On the territory of the terminal working mother and child room.
In addition, the airport is ready to offer for tourists traveling in business class, separate waiting rooms, high level of comfort.
Transport
It can be reached in several ways from the airport to Funchal. The cheapest but less comfortable option - a bus. Buses run every half hour, the fare will be about 5 euros.
In addition, from the airport to the city can be reached by taxi, the trip would cost considerably expensive - about 30 euros.
Also do not forget that many hotels provide a free shuttle bus from the airport to the hotel, so we need to clarify this fact when making your reservation.
Photos of Funchal airport